Are you looking for a way to improve your local SEO? Why not give Google My Business a try? This article will provide full coverage of what this Google service can do to support your business SEO. To top it off, I will also throw in the steps to create a Google My Business account.
What is Google My Business?
For small businesses, brand awareness means everything. Seeing how fierce the competition is, it comes clear you need to invest time and money into your brand.
The easiest and most affordable way to do it is by creating an online profile on the internet. Google My Business can help you with that.
Google My Business is a service that aims to give business owners more control over their business data that appear on Google's search engine. Operating under the Google flagship, this free service is the perfect tool to improve your local SEO and overall brand awareness.
Don't know what SEO is? No worries! Take a look at this article for more information about SEO importance.
Why Should You Have a Google My Business Listing?
You might argue that having social media accounts to promote your business is enough. I will have to disagree with you there. While social media platforms are great marketing tools, 4 out of 5 consumers choose to rely on search engines, especially Google, to find local information.
As part of Google, the service gives plenty of perks that allow your business to get bigger exposure. Here are the four most significant benefits of owning a Google My Business listing you'd want to consider.
Improve Search Visibility
The most significant advantage of using Google My Business is that your listing will appear on Google Maps.
If you take a closer look at Google search pages, you'll see that Google Local Pack appears before organic results. It shows up to three business listings along with their information. Imagine how much traffic you'll get if your business appears on it.
Promote Physical Store
If you have a physical store, Google My Business can help direct local customers to it. That's because 86% of Google Maps users use the service to search for local businesses. You can get a lot of potential customers by making your business address and contact information public.
Free Website
To further improve your brand awareness, Google My Business has a website builder that allows you to build a website for free. Having one helps grow your business' credibility and gain trust from your customers. It also increases your chance of ranking higher on SERP.
Google Analytics Integration
Google My Business can integrate with other services, including Google Analytics. You can track many essential elements, such as website traffic, target audience, and content effectiveness.
The insights can help improve your marketing strategies and website performance to achieve more sales and traction.
How to Create a Google My Business Account?
Now that you know the benefits of having a Google My Business listing, let's move on. Take a look at these steps to see how you can create an account:
#1. Log into your Google Account, then go to Google My Business' webpage. Click on the Manage now button in the top-right corner.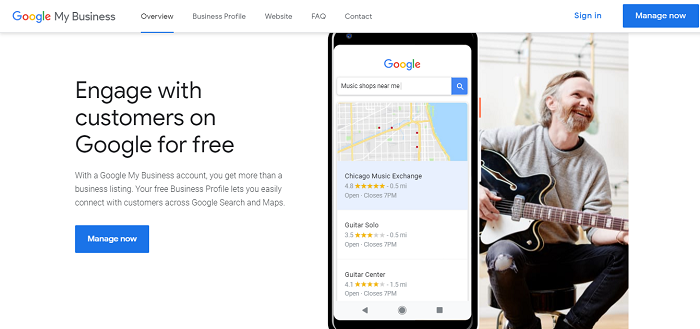 #2. Add your business name, then click Next.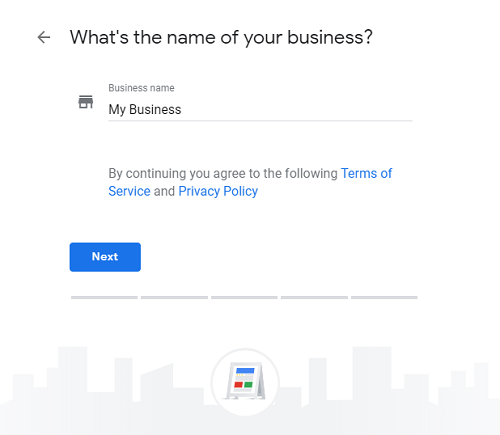 #3. If you have a physical store, it's best to add its location to your listing. Once you have entered your business information, click Next. You can skip this step if you don't have any address to add.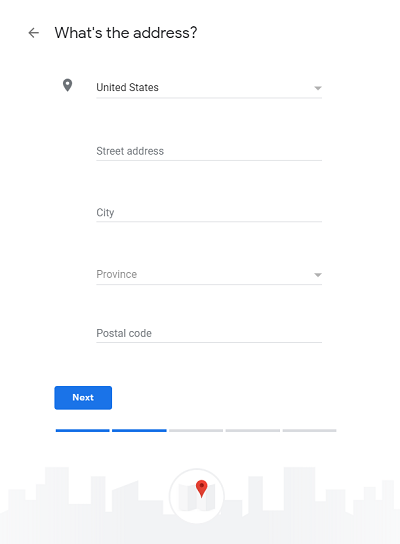 #4. Google will then ask for your exact location on Google Maps. Drag the map and position the marker on the area of your business, then click Next.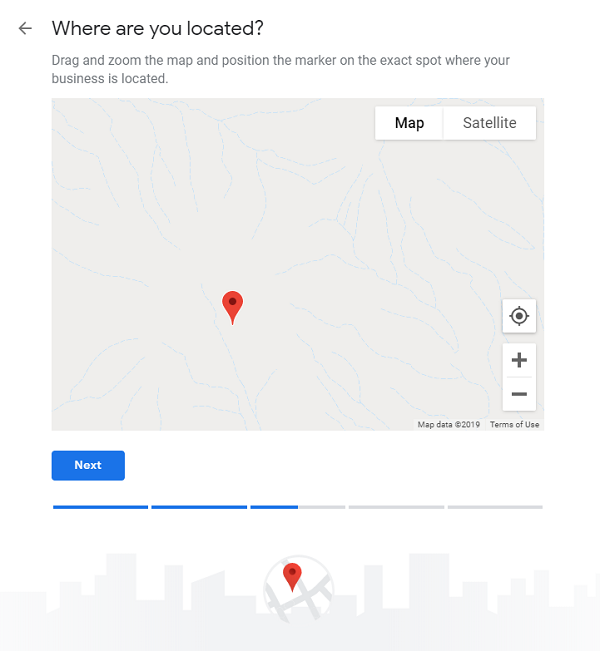 #5. If you deliver goods or services to your customers, tick the Yes, I also serve them outside my location option. Choose your service areas, then click Next. Not to worry, you can change your preference later.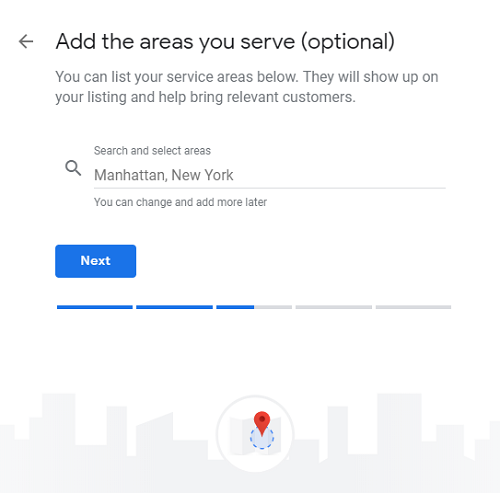 #6. Enter a keyword that your business associates the most, then click on one of the categories provided. Make sure you choose the most accurate category as Google will use it to determine your target audience. Once you're done, click Next.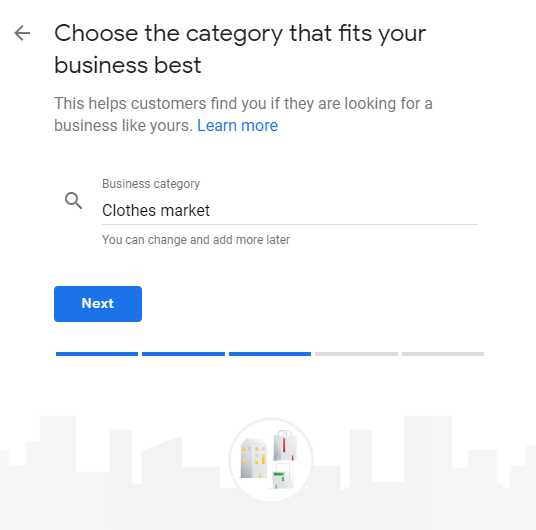 #7. The next form will then require you to input your contact details. For the online method, you can opt for using an existing website or build a new one for free using the service's website builder feature.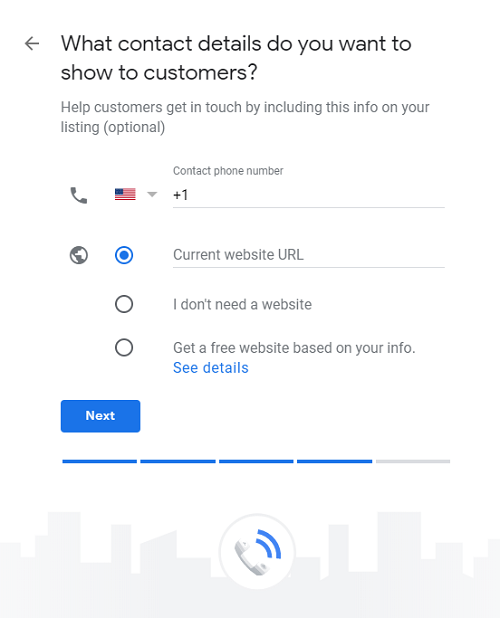 #8. To complete the process, you'll need to verify the listed business. Google My Business offers several methods of verification based on your location — by mail, email, phone, or Search Console.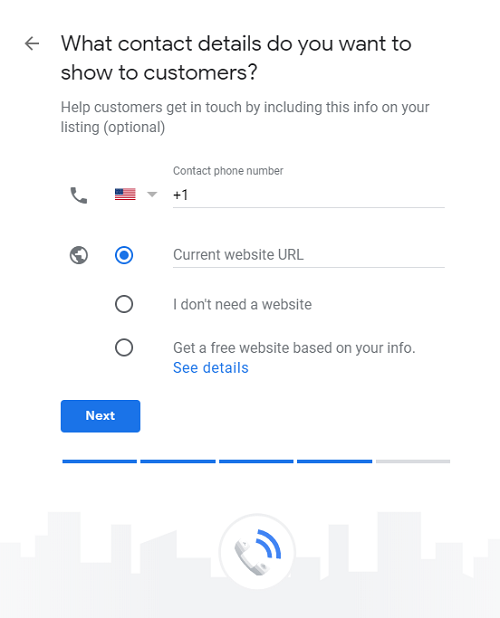 There you go! Your Google My Business is now up and fully functional.
That's a Wrap!
Google My Business is a powerful yet free Google service that has a ton of benefits for your business. If you're looking for a starting point for increasing your brand awareness, this service is definitely worth considering.