The path from a startup to a corporate giant is steep and arduous. And if you've already managed to launch a startup and gain profit, greetings. It's been a long way but now's the time to scale.
In this guide, we'll find out when startups are ready to expand and provide a few tips on how to get prepared to it.
Growth vs. Scaling: What's the Difference?
First, you should understand the difference between scaling and growth. The growth means that the company's revenues and costs grow at the same pace. It's when you add new customers, and you hire more people to work with them. Thus, you get an additional profit, and that's a bit different from additional costs.
When it comes to scaling, the situation is different. Scaling doesn't require additional spending to trigger the growth of revenue. Simply put, you get a maximum profit with minimum investments.
Google is an excellent example of a company that scaled up. Now, Google gets new customers quickly but invests less.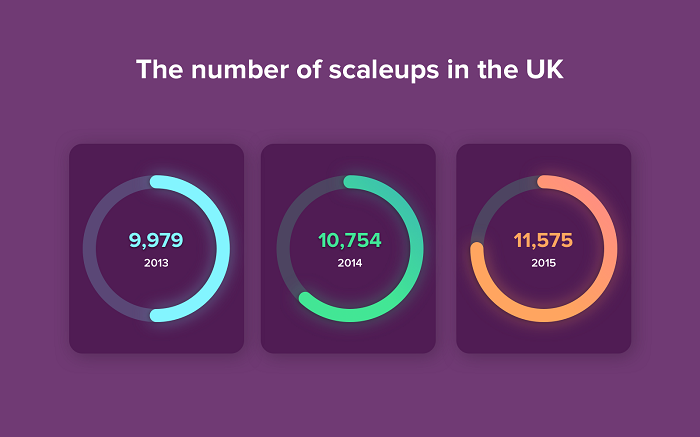 When to Scale Up?
Now, let's discuss how to prepare your company for scaling up. The first thing is to define when the startup is ready for it. Otherwise, your business may fail even before it rises. Thus, setting the right time is a crucial point. Here are four signs showing that your company is ready.
Achieved goals
In the beginning, startup owners don't have enough information that can help them figure out their future revenue, costs, and so on. That's why they borrow statistics and set goals according to it.
Still, as soon as they see these goals met – or even exceeded – it's the right time to reevaluate and scale the company up.
Strong cashflow 
Growth requires investments, whether you scale up a large business or a startup. And it's not enough for a startup to be just profitable – you should carefully analyze the revenue.
The ability to control costs and predict the revenue is vital at this point. So think of the resources you need and make a list of ongoing and one-time expenses. Then, calculate costs and define, whether you have enough money to invest. Besides, don't expect fast growth of profit starting right the next day. It often takes more than 4-5 months to see a return on investments.
In some cases, you may even look for investors but be ready to prove that your startup won't fail.
Good-working software
If you're using custom software, you need to make sure it's capable of taking the strain when your client base will grow.
Scaling up leads to more information that needs to be stored. And if your software performs only small tasks, you may have severe issues with it. But in case you're using software capable of dealing with any number of severe jobs and storing large amounts of data – don't be afraid to start the expansion.
Great team
A good team is the very foundation of your business's success. So make sure that your colleagues are ready to bring innovations to the project and tackle new tasks.
Some of your employees may be great in the current setup, but it'll be hard for them to process new tasks. And if this scenario is real for your company, think twice before scaling up.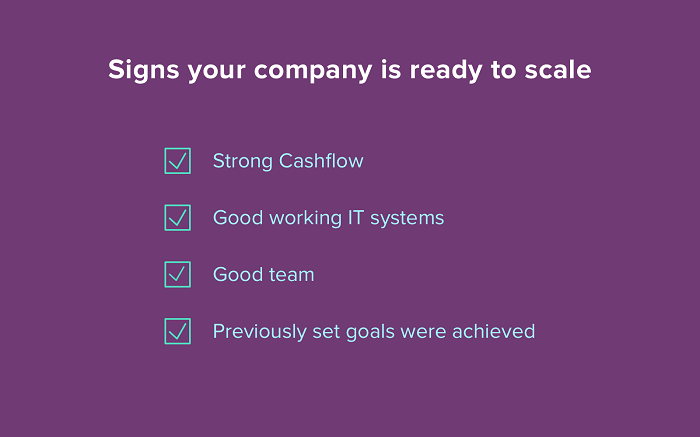 Preparing the Startup: Step by Step
Now, as you know what exactly you need to evolve your startup, let's learn the steps.
#1. Create the strategy
Every company needs to develop their right strategy. But you don't need a complicated one. The plan should include the strengths, weaknesses, and prospects of the startup. Based on these details, set a goal for each next quarter, then for a year.
And don't hesitate to ask for advice. Contact experts or business owners who have the same experience. Another useful thing is to attend events for startup owners like the annual Startup Scaleup event.
#2. Invest in software
It's a digital age now, so streamline as many processes as you can. Here are just the most popular solutions for managing a startup and making it scalable:
Customer Relationship Management software helps to manage interactions with customers by organizing and storing information about them. By using these details, you can faster respond to customers' questions, improve your marketing, and learn what clients need by analyzing their buying patterns.
The most popular software solutions are:
Salesforce
HubSpot
Sugar CRM
Zoho CRM
Or there's always an option of custom CRM development. This way, the software will be built specifically for your business and thus will work twice as effective.
With your company's growth, staff management becomes more difficult. To keep an eye on resources and processes, you may apply an ERP system. Enterprise Resource Planning software helps with organizing business data, reporting about changes in the workflow, collaboration, and planning.
And with the growth of the company, the amount of information to be stored increases too. Cloud computing gives an opportunity to fulfill an increasing demand with fewer resources and investments.
#3. Be ready to outsource
In-house teams of developers are quite common for big companies. Still, for stall business and startups, it may be very costly to hold them. And outsourcing the development to an offshore team is the best solution.
An outsourced team of devs will cost less, so you reduce non-needed expenses.
#4. Improve marketing
No matter how great your team is, your startup won't grow if no one knows about it. So before you transform the business, think of additional advertising channels like:
Content marketing. The most scalable method, used by lots of startups. Content marketing brings viral potential and continual value.
SMM. Often startups don't have enough money to invest in advertising. And social media becomes a great tool in this case.
Influencer marketing. By cooperating with influencers (people who are popular on blogs or social media) that recommend your services to their audience, you get more customers, sales, and thus profit.
#5. And reputation
This step follows the previous one. The right marketing strategy means building good relations with customers. And, of course, branding. For instance, building a website for your company is the right solution. Or, if you already have a website, pay attention to its design and think of re-designing it, if required.
#6. Build your dream team
Scaling a company means hiring more people. Here's a list of the most essential qualified of your team members that help with the company's development:
They perform crucial tasks;
They do what machines can't cope with;
They are multi-skilled;
They are innovative.
#7. Make sure the startup works without you
If you fail to manage your team correctly, all you'll get is decreased productivity and huge employee turnover. To avoid that, onboard new managers and team leaders that can manage employees without your help. And don't forget about the right hierarchy.
The startup is indeed scalable only if it can function without you. So force your employees to be independent.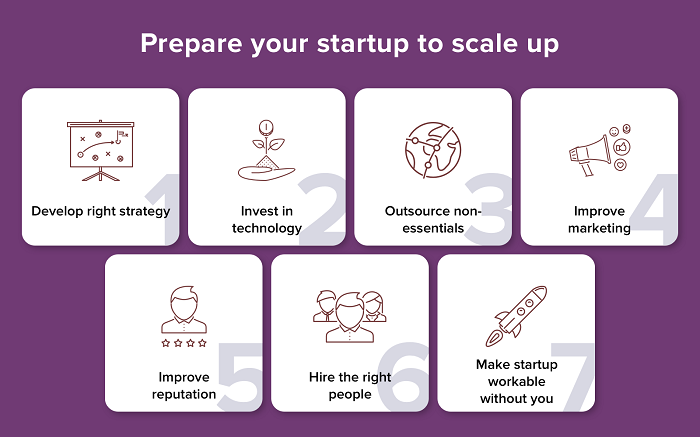 As you can see, there's a number of aspects to take care of before the scale-up. Still, if you trust in your team, have enough resources and software capabilities, there are good chances that you'll succeed.