Year ending is round the corner and it worth a look back for our own betterment. How about revising the media campaigns on the social networks?
There is no wonder that social media has become the major platform for marketing for any business. If the campaign strategies are well-executed, without a doubt one can reach millions of people across the globe creating a better brand image. But what if something goes wrong? Yes, the impact will be just reverse. If you wish to avoid such mistakes, especially those on social media, learn from the mistakes of others. Here are a few mistakes of the past, from leading brand campaigns:
1. Someone was totally ignorant about this national tragedy
It was by American Apparel's bid for a Fourth July promotion that they tweeted an image of Space Shuttle Challenger Disaster, thinking that would be of fireworks. Criticisms overflowed as soon as the post got noticed in the social media. Though they apologized for the mistake, their image was already damaged by this ignorance. It was done by a person who was too young to recall that event.
2. Ghana doesn't have giraffes?
Soon after a World Cup match when the United States wins over Ghana, Delta posted images of Statue of Liberty and Giraffe, representing the United States and Ghana respectively. The audience noticed the mistake and there were storms of reactions from their end:"Hey Delta! There are no Giraffe in Ghana." The tweet was removed with an apology note for the ignorance.
We're sorry for our choice of photo in our previous tweet. Best of luck to all teams.

— Delta (@Delta) June 17, 2014
3. Someone learns geography is tough
It is none other than the brand leader Coca-Cola. They posted a cartoon with a snow-covered map of Russia. On a closer look, one can understand that Kaliningrad is been nicely omitted in the map. Kaliningrad was annexed on Second World War. Now do you think Russians would be happy seeing this tweet? Something was done to impress the Russians had brought the reverse effect. Followed by this ad, people started tweeting against Coca-Cola, even with pictures of pouring the drink into a toilet and hashtags #BanCocaCola.
4. When Total Beauty got totally confused
Total Beauty, an online publication tweeted about Oprah Winfrey posting a picture of Whoopi Goldberg. And that too of both most popular celebrities! You can now imagine what next. Oprah's pal Gayle King tweeted a reaction shot of Oprah in a "WTF?" pose, with a caption that read, "We all love @whoopigoldberg but we don't all look alike." It was all because Total Beauty, couldn't see any apparent difference between both of these African Americans.
5. When Microsoft's bot turned out to be a racist jerk
Recently, Microsoft introduced an 'AI' twitter bot, named Tay, which was designed to learn from its users through its conversations. The smarter the bot will become, the more you chat and interact with it. But Microsoft had to put on pause its newly launched chatbot due to distrustful tweets. Followers started tweeting the bot with varied misogynistic, racist, and Donald Trumpist remarks. In less than a day, bot was termed as a racist jerk. The team had to remove all those tweets to keep up their image.
6. When they used the 9/11 incident for their ad campaign
It was a video campaign that Miracle Mattress company released. They posted this video to Facebook mentioning "twin tower sale". The ideo goes like this, Cherise Bonanno prompts their customers to 'get the mattress of any size for twin price', by recalling 9/11 (the deadliest attack on the U.S). Towards the end of the clip, the store employees screams and falls backward onto two stacks of mattresses (intended to remind the fall of towers of World Trade Center). The video ends with a comment from Bonanno, "we'll never forget". Needless to say, the ad campaign evoked great outrage among the viewers. It is apparent that using any such tragedies as a tool for the marketing campaign is insensitive. Finally, the owner Mike Bonanno concluded the matter with an apology letter.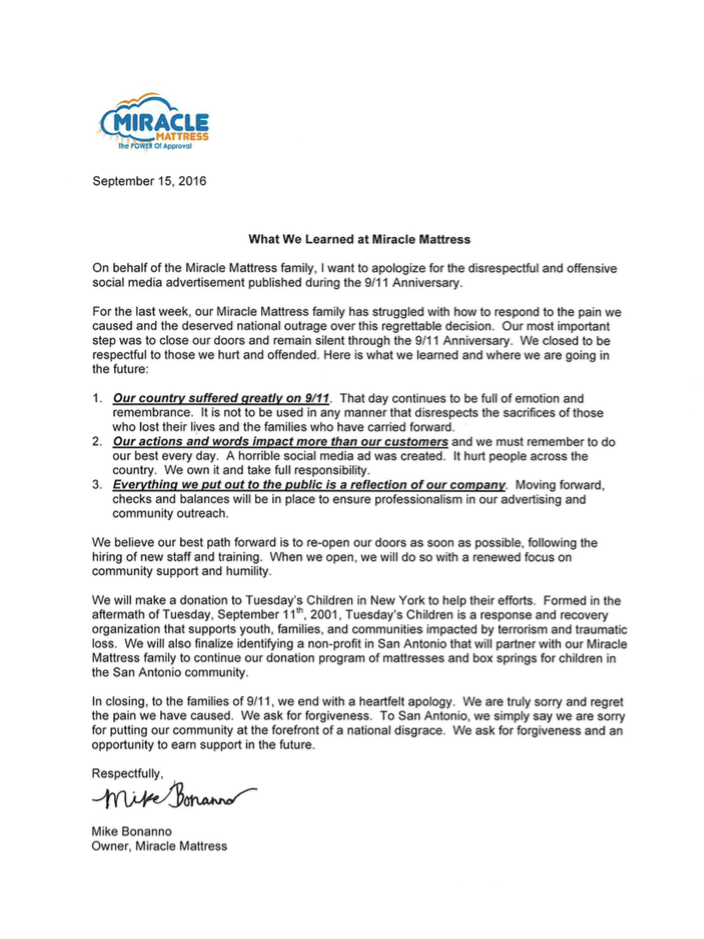 7. Even the hashtag didn't workout
JP Morgan tried to open a public conversation with hashtag #ASKJPM. This good thing was intended to receive insightful questions from the public to which JPM could respond. But the present reputation the company has, which was involved in manipulating the financial markets, resulted in criminal probes, it didn't receive the expected result. Instead of insightful questions, followers started using the hashtags to criticizing the company for its business practices.
Always do good research prior to posting anything on social media. Else, these mistakes may get easily noticed and go viral to a large group of people round-the-globe which would affect your reputation. Think twice before you act!