Instagram enjoys a userbase of 600 Million+. One-third users visit the app frequently on a daily basis. It is thriving community of influencers. Over 1 Billion likes are exchanged daily.
Let those numbers sink in, lest you miss to know how big a stage Instagram sets for marketing and growing your business.
Instagram for business
So, you thought Instagram was only to share your pouts to the world? Do you know that 70% of brands in the US are estimated to use Instagram actively to promote their brands?
If your brand is not on Instagram, you are missing out on a massive opportunity to tap into a growing source of marketing medium.
In this article, we explore how your business can get into the Instagram bandwagon and etch an identity for itself.
A Strategic Approach to Instagram Marketing
Unlike individuals who can post anything and everything on Instagram and hope to get favorites, businesses cannot afford to play guesswork. A clear cut strategic needs to be put in place and executed in order to taste success in Instagram marketing.
That said, there are 4 elements that you must consider when crafting a strategy for Instagram marketing:
Vision for the future
Frequency of updates
Audience persona
A unique style and identity
These elements combined with the right choice of tactics can put your business on the first lane to business success through Instagram.
Proven tactics to maximize your business' Instagram engagement
Creating an account in Instagram will not move your business anywhere higher in engagement. Real work on several accounts in necessary to move it up the ladder of your user favorites. Here are some tactics to get that done.
Profile-level tactics
Your profile is the first thing that users check before following to your posts. In other words, it is the bait that hooks and reels in users. Here is how you can craft your profile to attract users like iron to the magnet:
Use the company name that is search engine optimized
Include your website URL in the profile bio
Write a fetching business description that invokes curiosity
Do not forget to include keywords in the bio/description
Give your business an identity/persona of its own with description and profile picture
Always keep the bio updated according to seasons, trends and social indicators
Check out how Founder Of Motivate Me has created her Instagram account in a near-perfect manner: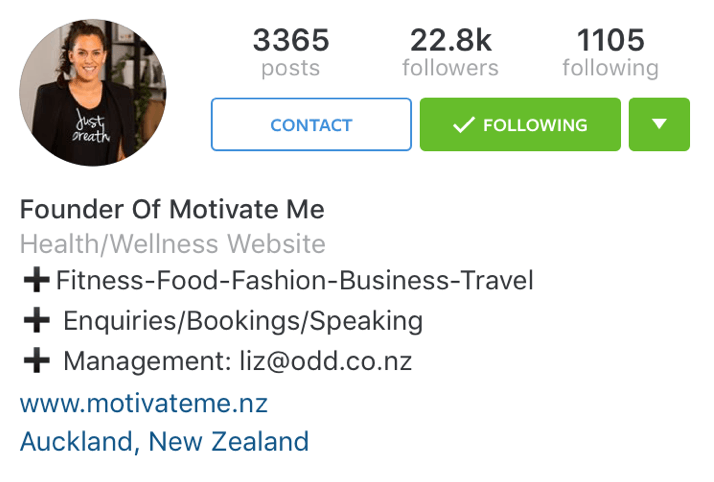 Image via: Tctechcrunch2011
Also check out this: Social Media Marketing Movie
Photo management
It goes without saying that images form the crux of marketing through Instagram. Instagram itself provides a handful of exciting filters and editing features that will take your images from "Nice" to "Awesome!!"
Pilot Pen USA has some quirky tricks up its sleeve to show its pens in good light always: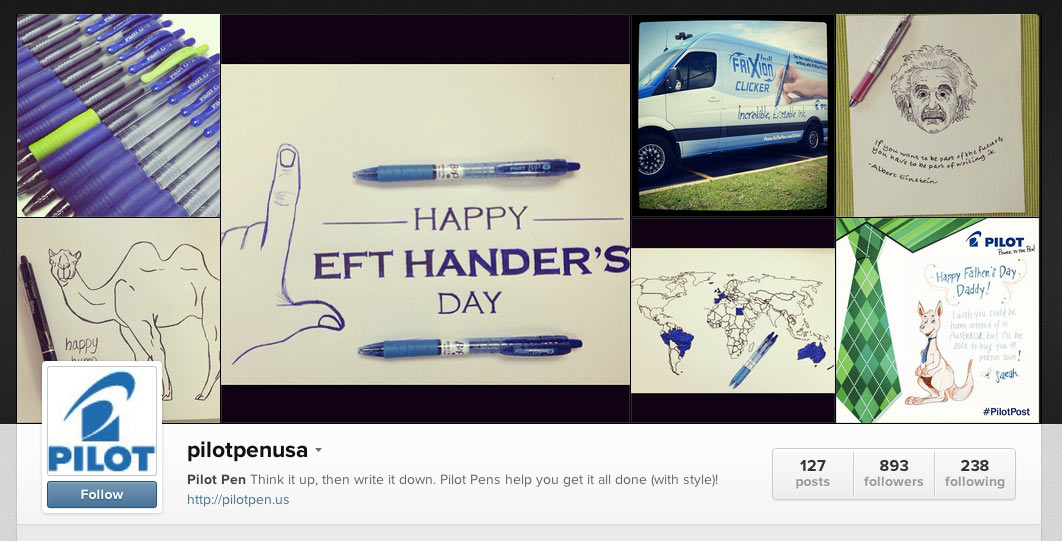 Image via: Cloudfront
Knowing more about photo management in Instagram will maximize your engagement rates. Here is how you can do it:
Post real images of customers using or buying your product
Upload images of your product in various settings (outdoors & indoors)
Crop images to the right dimensions. By default, Instagram has a square image size of 612*612 dimensions
Pick and choose filters that suit the ambience and tone of the message that the image is trying to deliver
Gather images from customers through hashtags contests, polls, etc.
Use of hashtags
After Twitter, Instagram is the only social network where hashtags have maximum potential to drive engagement. You can as much as hashtags as you want, however, an optimum number of 9-11 hashtags for each post drives maximum reach of the post.
A simple hashtag like #latte can throw up millions of posts from all around the world: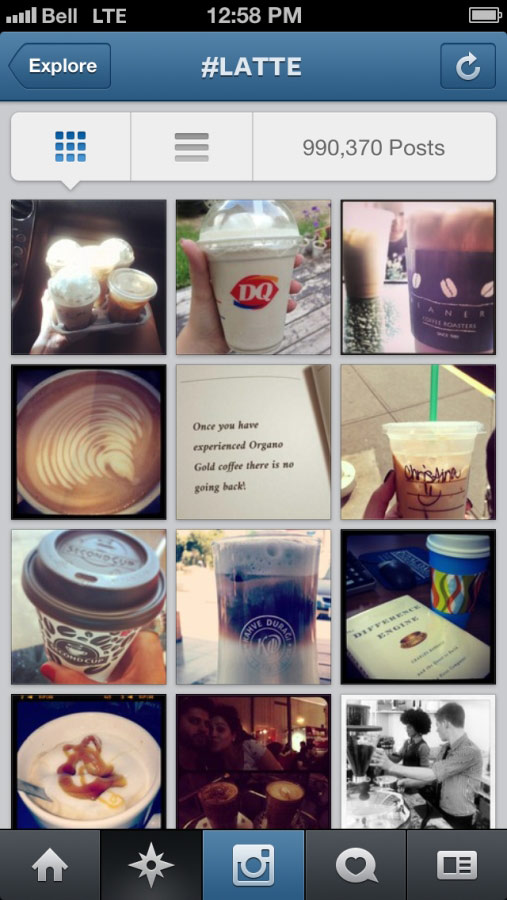 Image via: Cloudfront
You can make the best use of hashtags by following hacks like these:
Creating & using branded hashtags (your brand name + product + verb)
Using trending hashtags with maximum public posts
Use hashtags that are unique, quick to use and convey a message. For eg: #contentmarketing is an ideal hashtag if you are adding an image of a blog post related to content marketing strategies
Contests, polls & Giveaways
A great way to make your Instagram followers come out of their cocoon and start responding is through contests, polls and giveaways.
Lulus pulled out a neat Instagram contest that made customers rush to its store.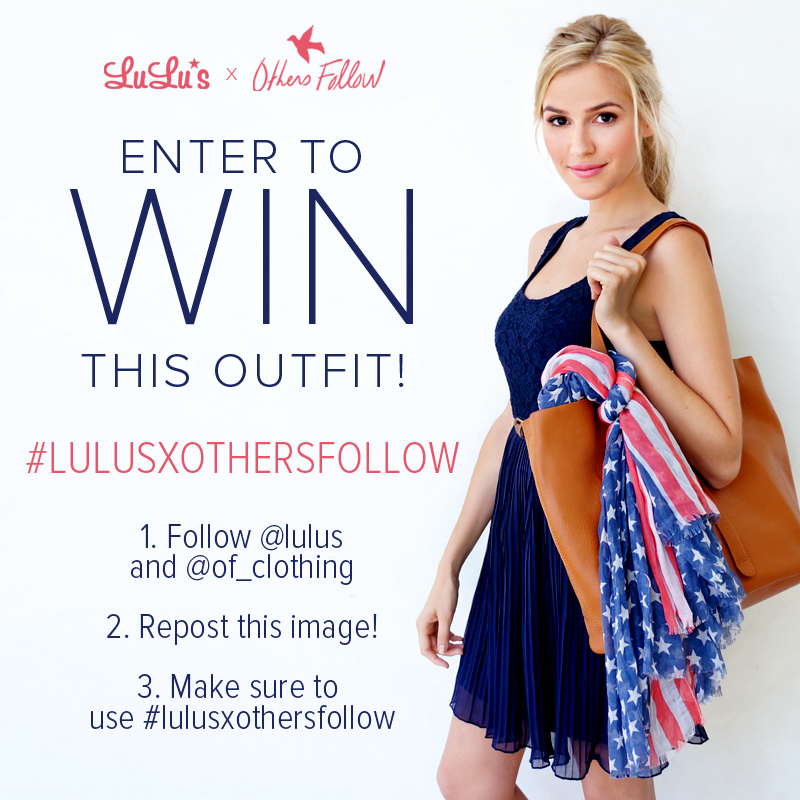 Image via: Cloudfront
The idea of a contest is to create a social buzz so that your followers start responding than just hitting the favorite button for the post. Other ways to make a contest/poll/discussion click is by:
Ask questions through images to initiate discussion
Start polls for popular topics with relevant hashtags
Conduct a contest with a definite price to the winner
Announce giveaways of new product releases
Invite followers to sign up for free trials
Share quotes and trivia relating to the brand or product
Monetization tactics
From 'Followers' to 'Customers', the customer journey finally has to meet the business motive of monetization. Even in Instagram, you can deploy several monetization tactics that will help your business generate revenue and maximize the RoI on Instagram ad spending.
Some ways to monetize your follower base include:
Adding actionable CTAs for product images
Capturing emails from trials or takeaways for email marketing
Using paid ads to reach target audience accurately
Directing image links to shopping cart
Reviewing customer comments for cold emailing
Bringing it all together
Instagram is a fantastic field to build your brand story through images. Not just images, hashtags, contests, polls and also the newly introduced Instagram videos.
With a well-written Instagram biography and description, you get on the long said of building a business through Instagram. With time you can experiment with advanced strategies to build customer engagement and finally establish Instagram as a proven sales channel.