Bill's on his desktop computer at six in the morning. Susan goes to work while browsing for newsletters in her phone. James checks his emails every night before he goes to bed.
With constant device transfers happening multiple times in one day, it's as if every marketer is playing their own version of a guessing game. Customer journeys are so complex and so unpredictable nowadays, that we never actually know where and when each customer shifts from one device to the next.
When the path to purchase can start or end at any time, across any device, and in any location, it becomes necessary for brands to provide an excellent user experience in all devices.
Google's research showed that 90% of multiple device owners jump from one device to the other between an average of three per day to complete a single task. For this reason, more and more companies are now guiding their leads through the customer journey with an omni-channel marketing strategy.
Omni-channel Marketing: What is it?
Omni-channel marketing is all about providing a seamless user experience across all channels that are relevant to the shopper's journey. It puts greater weight on the buyer's experience. Its main goal is to make the easiest shopping experience possible.
In the United States alone, there are 213 million adults accessing the internet with an average of 4 different devices. This seamless jump from one device to the other makes them more connected. While doing so, they gain more control over the buying process.
What used to be easy marketing has no become a complex process where you can't reach your entire target audience in one or two stops. The ever-evolving digital world has turned the customer's buying process into a journey that spans days, locations, times, and channels.
And when we say channels, we don't just mean electronic ones either — although they're evidently the most popular. These channels can be magazines, newspapers, snail mail catalogs, flyers, or posters. They can be word of mouth, billboards, or something as commonplace as your storefront.
When your target audience is capable of interacting with your brand 24/7, how will your business prepare to accommodate them?
Who's doing an omni-channel marketing strategy?
Many businesses are turning to omni-channel marketing to give its customers a more integrated experience.
One famous example of a company utilizing an omni-channel marketing strategy is Disney.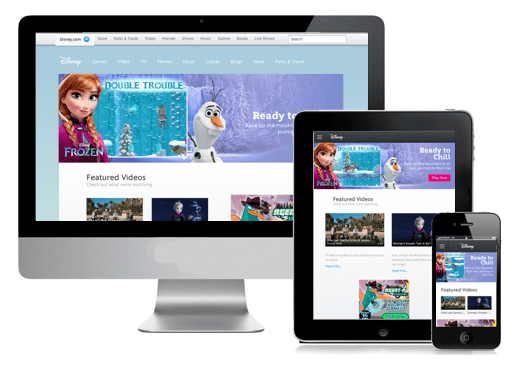 Image via: Branex.com
Disney's marketing team knows the value of an omni-channel experience. Their customers' journeys start with their mobile-responsive website. Even the trip-planning website works incredibly well on mobile.
Upon booking a trip, their customers can use the My Disney Experience to plan the entirety of a trip — from where their customers will dine down to securing fast passes. On the other hand, in the park, Disney's customers can use the mobile app to locate attractions they would want to see, as well as view the estimated wait time for each grand attraction.
That is what marketing experts mean when they talk about an omni-channel marketing strategy.
Getting started
It's time to get started on the road to an effective digital marketing strategy. Here's how to do it:
#1 Deeper knowledge of the target audience
You can't provide an effective omni-channel experience without getting to know your customers deeply. Some marketers would roll their eyes at being reminded of this time and time again, but it's worth doing it. There is a need to understand who your customers are; how they behave online; where they're coming from. You have to be knowledgeable about their goals and challenges.
How do you get to know them?
If your company has the budget, invest in research. When done right, first-hand data is always the most accurate and the most useful when it comes to building strategies around it. Other ways you can do this is by inviting customer feedback or using social media monitoring tools.
The most important thing you need to know, however, is which channel they use to access your content.
This image from Netsertive report shows the most popular channels people use nowadays. Use it as a benchmark, but remember that your audience's most-used channels vary depending on their personas.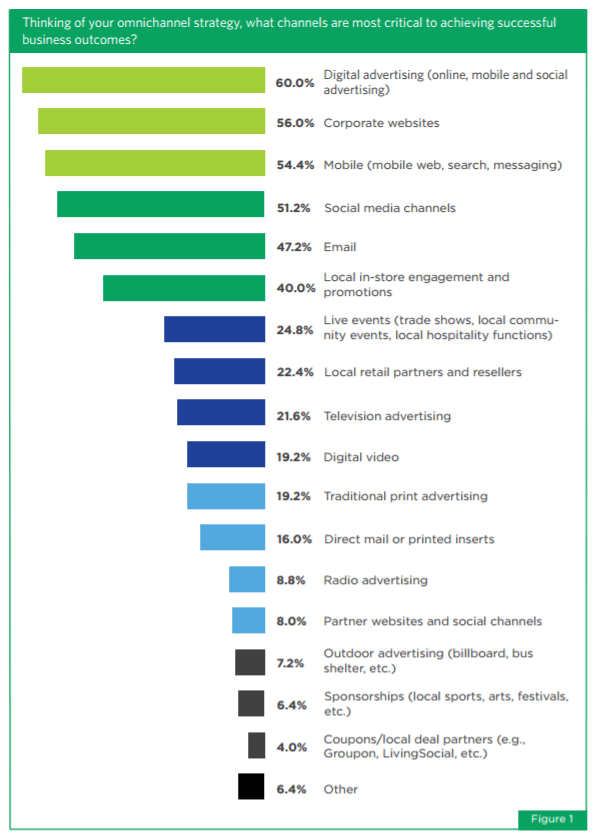 #2 Maximize engagement
In connection with the very first step, the second measure to take in this planning process is equally necessary. What's another great way to get to know your audience? Why, by interacting with them personally over social media, of course.
A thing you need to remember for an effective omni-channel marketing strategy: never force your customers down one generic path just because you find that path easier to track. You might think it's a surefire way to boost your numbers, but your customers themselves would tell you otherwise.
It's not about your business's convenience, it's about theirs — your target audience's. Adapt to how your customers would want to interact with your brand. Be open and ready to engage them wherever channel they come through.
Studies show that 45% of consumers prefer a combination of mobile, online, and physical store shopping.
#3 Integrate your marketing strategies (Consistent experience)
Your customer finds your website on his desktop computer. He then moves on to use your mobile app on his smartphone and then proceeds to check the emails he received after subscribing to your newsletters.
When it comes to your customers' consistent experiences, questions need to be asked.
Will your customer experience consistency as he moves from one channel to the next when he engages with your services? Will the same products and options be available? Will your brand's message ring true across every channel, or will it be different — multiple and isolated?
The main reason why you want an omni-channel marketing strategy is rather obvious. You want your consumers to experience consistency and to familiarize themselves with your brand's identity. The entire point of uniting your channel approach is to keep your target audience from confusion and conflicting messages. You don't want your campaigns to look like they're accidentally competing with one another.
Give your website, your emails, your traditional communication media, every customer-service material the same theme. Because as your target audience familiarizes themselves with the message your brand sends, the more likely they'll develop trust and a valuable relationship with your brand.
#4 Responsive web design
Imagine your disappointment when you come across a website on your mobile phone, and you still need to pinch and zoom just to see what's written there. What's even worse? Some of their website's content isn't even accessible via smartphone.
In this day and age, yes, that sort of situation is outrageous. You can't blame your audience for leaving after a disappointment like that.
And this is why creating responsive web design is so important. As customers access your brand's content across all channels and devices, it needs to display nicely no matter the screen size. All your web pages must be designed responsively — especially your site's landing pages.
#5 Teamwork and Coordination
And for every grand endeavor to work, a team's coordination is extremely vital. The sales, marketing, PR, product development, customer service, and other departments involved have to band together — not work independently.
The foundation of a successful omni-channel marketing strategy is consistency and a unified approach. How do you go about achieving that if the brains and hands behind the marketing strategy won't coordinate as one?
When communication is constant, unbarred, honest, and swift, a team is more likely to operate fluidly.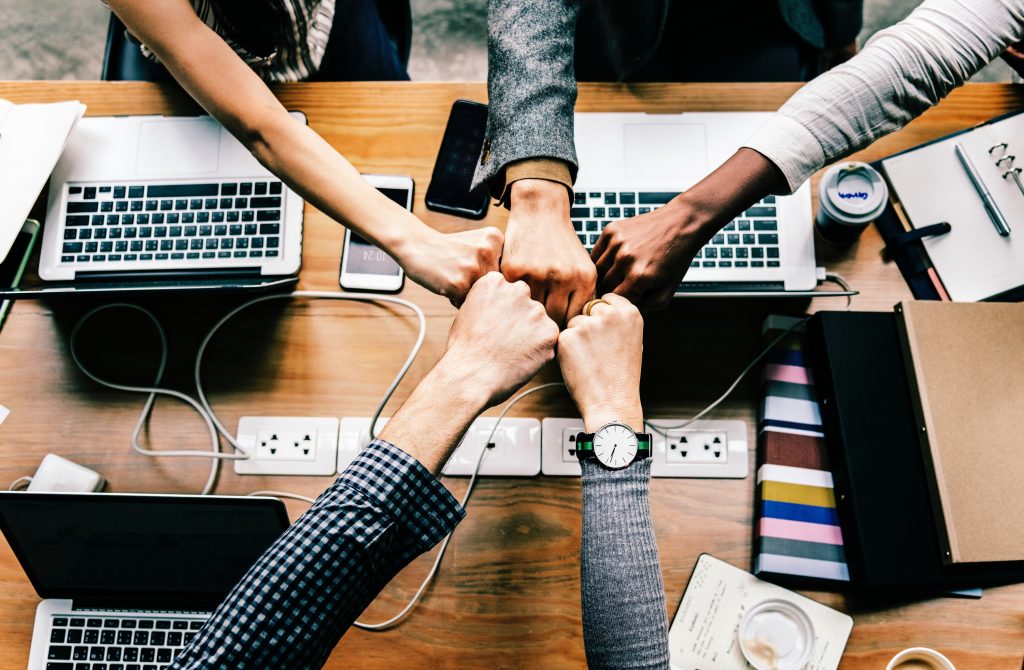 The Takeaway
Formulating and constructing an omni-channel marketing strategy will take a lot of work. From research to implementation, you need to keep tabs on the process of the entire thing. For all the trouble that it's going to put you through, you might even think omni-channel marketing isn't worth the hassle at all.
But as many studies would have it, it truly is. Studies from credible companies show that customers enjoy using multiple channels. Do it right, and the result can be exactly what you wanted: a potent omni-channel marketing strategy all set to reel your target audience in.
Disclaimer: All images are provided by the author.