Shopify is one of the largest online ecommerce platforms in the globe. Shopify's services covers 175 countries and hosts more than 800,00 stores largely due to its ability to simplify the process of creating an online shop. Shopify even has its own app store, that includes countless plugins to further develop every aspect of your ecommerce website. Here we've got a list of some of the best Shopify plugins available.
#1. HubSpot CRM
HubSpot CRM is one of the top platforms for increasing leads and managing communication with current customers. It focuses on inbound marketing so that incoming traffic from both paid and organic marketing methods is funneled into one place. This enables you to increase brand awareness and generate consequent revenue by knowing which customers to contact and when.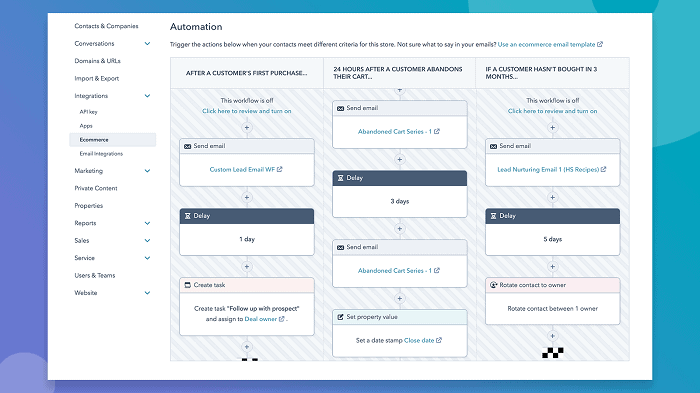 Source: https://ecosystem.hubspot.com/marketplace/apps/marketing/ecommerce/shopify?mbsy_source=8d9327a7-c43f-4a1a-9617-c2ef89b0716f&campaignid=32479&mbsy=wBcpD&utm_medium=am&utm_id=am41238948
Cost: starts at $29 per month for new businesses after a 14 day free trial.
Benefits:
Shopify store integration
Viewable Shopify store data in HubSpot (includes information such as average order value, abandoned carts and more)
Automatic syncing for products, contacts and orders
Customer segmentation
Ecommerce campaign automation
#2. Plug in SEO
SEO (Search Engine Optimization) is one of the top ways of bringing people to a website without paid ads. Used by more than 30,000 Shopify stores, Plug in SEO simplifies this process by going through your shop and alerting you about any particular issues. The plugin includes all the top elements for on page SEO such as meta data, headings and more. For large sites in particular, Plug in SEO can be a massive help to organize all the different SEO elements and make sure they are updated efficiently.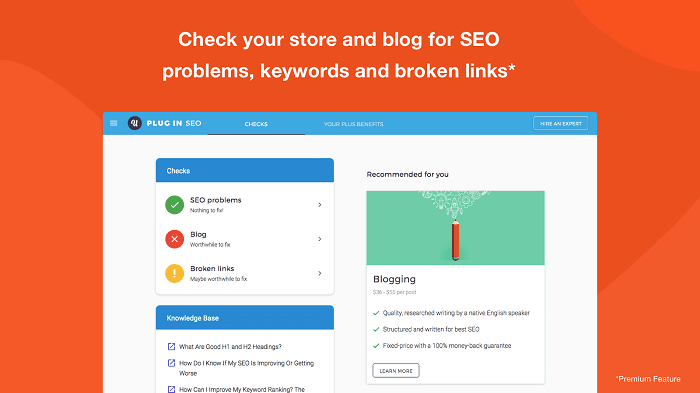 Source: https://apps.shopify.com/plug-in-seo?ref=ecomplatforms
Cost: basic plug in is free, with an option to upgrade to Plug in SEO Plus for $20 per month after a 7 day free trial.
Benefits:
Forever free basic use that checks the majority of problems for SEO, blog and speed
Free, automated SEO audits
Instructions for how to update these problems
Email alerts and support
#3. Free Shipping Bar
Free Shipping Bar is a must for Shopify owners who use the free shipping incentive to bulk up shopping cart purchases. 79% of US consumers said that free shipping would make them more likely to shop online, so this is a key upselling method that ecommerce retailers won't want to miss. The Free Shipping Bar plug in is completely customizable and sits at the top of your website.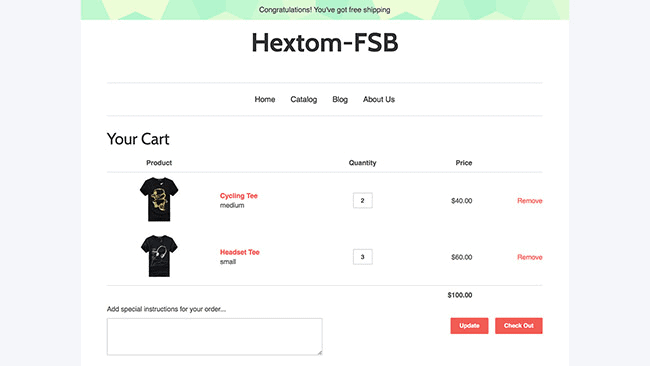 Source: https://apps.shopify.com/free-shipping-bar?ref=ecomplatforms
Cost: free with the basic plan, $9.99 for premium, $8.95 per month ($99) when purchased per year
Benefits:
Heavily increases average shopping cart values
Uses advanced targeting methods that pinpoint offers based on customer metrics like demographics and location
Customizable to include holiday themes
The bar can include a link
#4. Klaviyo
Klaviyo is a Shopify plugin that focuses on marketing automation. Klaviyo enables Shopify store owners to market to their target markets by establishing relationships directly with customers. Klaviyo boasts hefty increases to ROI through personalized marketing tactics, automated ad and email campaigns, and advanced sales reporting.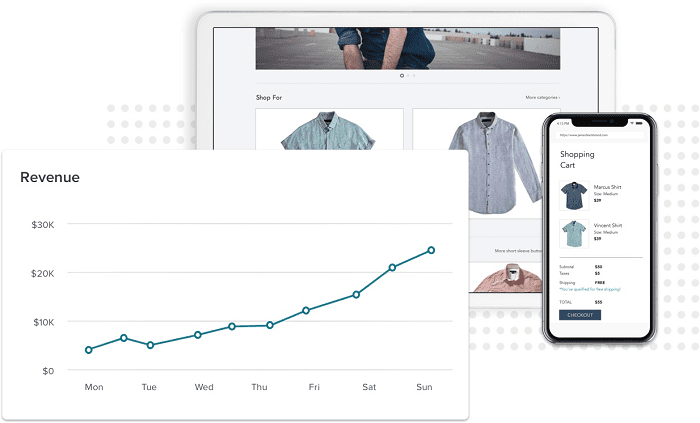 Source: https://www.klaviyo.com/features
Cost: pricing depends on your total email contacts, of which up to 250 are free, including 500 email sends. Any additional email contacts have a scaled price.
Benefits:
Only pay for the email contacts you actually use
Simplify large, automated email campaigns
Integrates all data and metrics in one place with a single click
Sales-based reporting with a focus on ROI
#5. Bundle Upsell
A common method to increase average purchase amounts is upselling. Fun fact: 5-25X more expensive to acquire a new customer than it is to retain an existing one. So if you're not focusing on selling additional items to current customers, you're missing out on a massive chunk of revenue. Bundle Upsell makes this easy for Shopify stores by adding additional offers to the one the user is currently viewing or in the process of purchasing. It's extremely simple to set up and adapts to each user's experience.
Source: https://apps.shopify.com/smar7-bundle-upsell?ref=ecomplatforms
Cost: $47 per month after a 7 day free trial.
Benefits:
Easy to achieve boosts to average order values
Takes 30 seconds to set up
Individualizes upsold product offerings
#6. Wishlist Plus
Wishlists in general have long been known to be a great tactic for creating conversions. The Wishlist Plus plugin for Shopify makes enabling a wishlist option a breeze, while also guaranteeing an increase of 30-50% on customer spending. In use in over 10,000 Shopify stores, you can access detailed wishlist data, implement email marketing campaigns for retargeting and customize the offers to match perfectly with your website.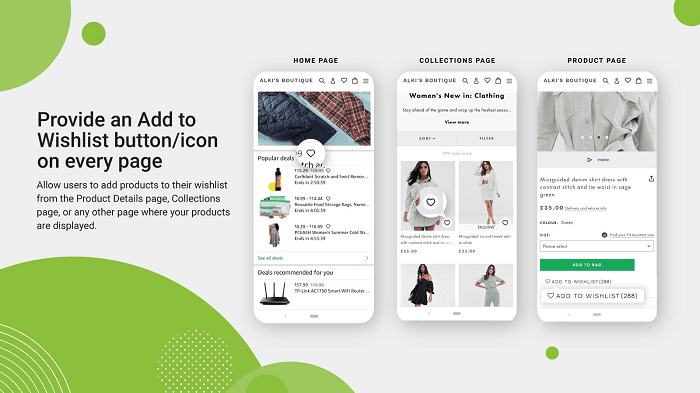 Source: https://apps.shopify.com/swym-relay?ref=ecomplatforms
Cost: free for 30 days, with basic packages starting after at $14.99 per month
Benefits:
Customize all elements of the wishlist for your brand and user information
Retarget customers with personalized email and social media campaigns
Wishlist that is ideal for mobile, but can be used across multiple devices and doesn't require a log in
#7. Referral Candy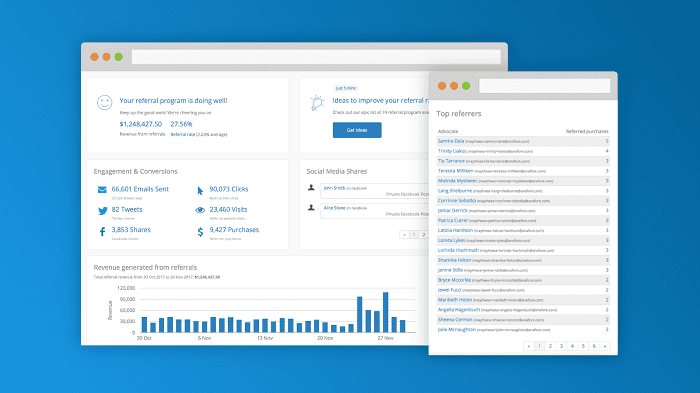 Used by more than 30,000 online stores, Referral Candy notes that word of mouth influences 80% of buying decisions, and customers trust referrals over every other channel. Referral Candy streamlines the customer referral process for Shopify websites by enabling automated and customizable customer referral programs. The setup process is simple and sales coming from referrals can be easily tracked.
Source: https://apps.shopify.com/referralcandy?ref=ecomplatforms
Cost: $49 per month after a free 30 day trial.
Benefits: 
Theme editor with customized offer pages and emails
Referral and sales tracking in one place
Customized rewards for referral programs
#8. Free PDF Invoice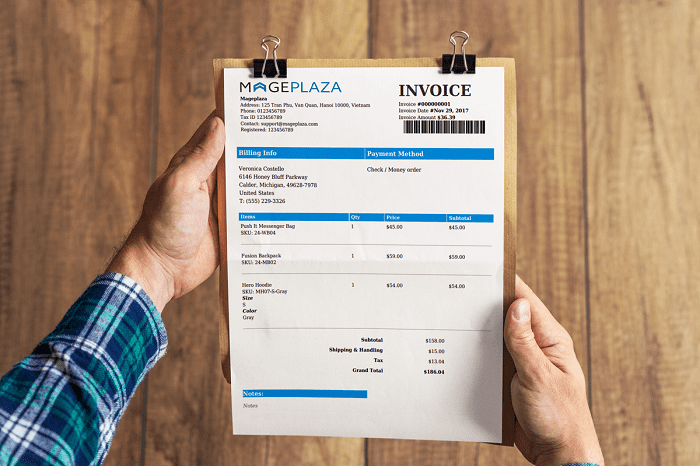 Shopify PDF Invoice by Avada is a tool that helps you automatically attach billing documents on customers' emails. This app allows you to create unlimited billing templates for 4 types of documents: invoice, order, packing slip and refund. Store owners can also customize the invoice templates with ease, add CSS styles and preview them instantly.
Especially, Shopify owners can print any type of billing documents in bulk. Whereas, customers are able to download and print their invoice right at the frontend with simple clicks.
Source: https://apps.shopify.com/avada-pdf-invoice
Cost: Totally FREE
Benefits: 
Auto-attach 4 types of billing documents to customers email: invoice, order, packing slip, refund
Simply create customizable email templates
Various pre-made templates for any billing documents
Save time on set up PDF template with Preview function
Print PDF in mass
This post was written by Mamoon Saeed who is a coffee fanatic and loves all things business. He left his corporate job to set up his own marketing agency, 
Numio Media
, to work with business owners to scale their revenue using digital marketing. You can also connect with him on Linkedin, 
here