Here's a newbie-friendly guide for ones who're just getting started with SEO for their eCommerce stores and want to attract free traffic from Google ultimately getting more conversions and much higher bottom line than before.
Ideally, you want to be at a stage where your PPC ad spend is much lower and revenue higher.
What's the single biggest problem with Ecommerce SEO?
Most go for the most competitive terms. And they can't figure out what they're doing wrong.
Keyword Research for Ecommerce Sites
Keyword research is the primer to getting started eCommerce SEO or any other SEO for any site. Without keyword research, you wouldn't really know what kind of conversions or traffic you will succeed at bringing.
If a keyword has 1000 searches per month, is low competition and you're able to capture a top 5 spot, you could get between 200 to 300 visitors per month considering all long tail keywords in the neighborhood of the main keyword.
If you don't want to fly blind- you do keyword research. For an eCommerce site, the process is not very different than from a regular site.
You could hit up any number of keyword research tools out there and start researching. I generally use Kwfinder and Ahrefs because they give organic ranking difficulty scores.
Here's an example:
Let's say you're in the dumbbells niche. It has a difficulty score of 54 with Amazon, DicksSportingGoods and other heavyweights on the first page.
With 2 minutes of search, I found a low competition keyword— "hand weights" which has 8,067 monthly searches and a difficulty score of 39.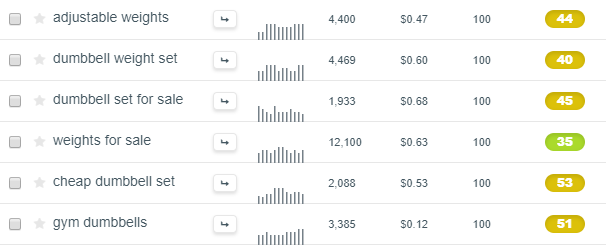 Another low competition keyword is "Weights for sale" with the competition of 35 and 12000 monthly searches.
It's much easier ranking for these.
The next method works if you already have a store with many products
In this case, you can do a page by page analysis of keywords on the store that's already set up.
To do that— Find out the pages that are ranking. Find out product pages, category pages or any number of pages that are ranking for dozens of keywords.
The problem is if there are too many pages it will be difficult.
So, when starting do not go about optimizing all pages. Instead through Google analytics or Ahrefs find out the list of top ranking pages for your site.
Find out the top ranking keyword and then optimize for it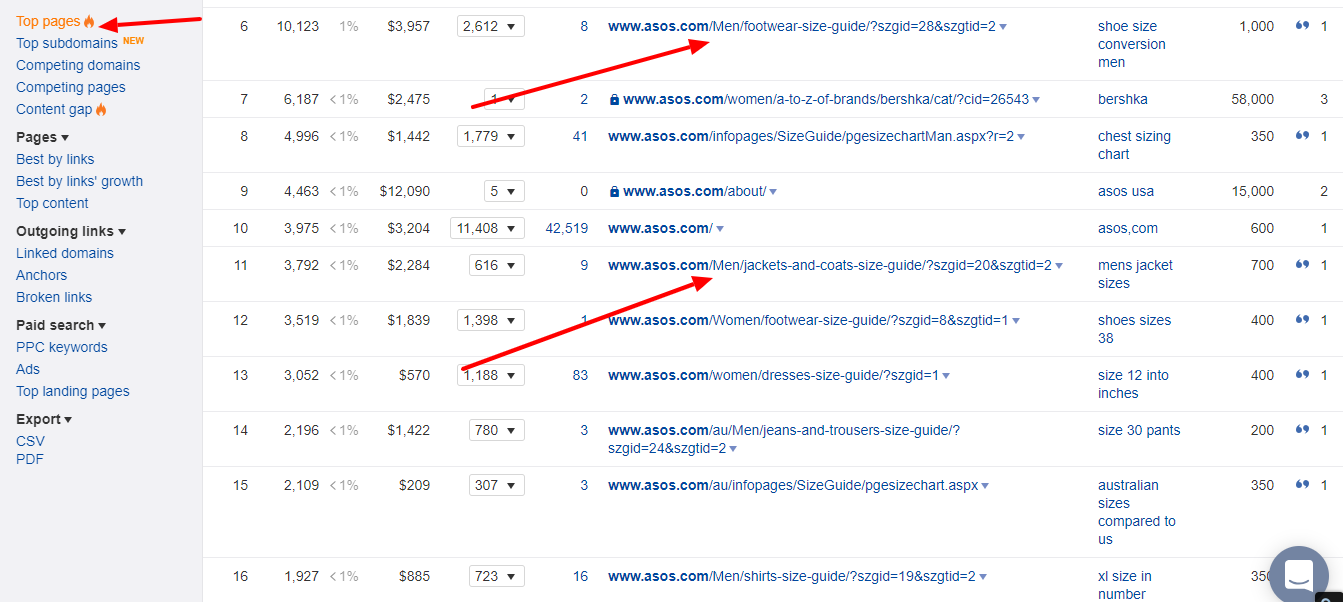 Find out the top keyword that's bringing you traffic. If you enter that particular URL on Semrush or Ahrefs you can find the top keywords for that URL. Find out if their products you can rank for.
Find the long tails of this main keyword.
Let's say you're going for the main keyword men's jackets. A secondary keyword could be "jacket for teenagers" or "leather jackets for men" and so on.
Put SSL on all pages
You may not have SSL at all or you may have SSL on a few pages say checkout and homepages.
However, there's no downside to having SSL on all pages on your site. A uniform secure protocol is way more beneficial to rankings as it presents a more coherent picture to search engines.
Also on an eCommerce store, we're always collecting data in the form of session cookies. It's best to do so in a secure manner.
Pay attention to Page load time
Google said that page load time is going to be a ranking factor. This was the reason why they propped up AMP which essentially means faster websites for mobile.
Visitors don't tend to stick around for more than 3 seconds if a page doesn't load quickly.
They're impatient. A better hosting provider can solve your speed woes to an extent. Couple that with solid on page speed optimization.
Build proper internal links
It's best not to abandon any page on your site. Pages that are many clicks away from the homepage only get little link juice.
A few internal links to those pages can move them several spots up in ranking and get you traffic.
It's an easy win.
Concluding thoughts
What do you think of our nifty guide on eCommerce SEO? Just taking care of the basics can help you win and rank for tons of keywords.
Do you have any tips to share from your own research or experiments? Let us know.
Guest post by George
George is a professional blogger who writes about digital marketing, webhosting and new trends occupying our times on his blog.