Everybody is familiar with the term PDF since it is used in nearly every business and sector. The PDF file type creates a well-formatted and easy to share documents for everyday use. Although PDFs are everywhere, it is really time-consuming to create them from scratch or edit them the way you like. There are many painstaking steps when it comes to creating a PDF document and then making it look smooth with the editing process. You have to collect all that data that is going to be in the PDF document and make sure that you transferred all the necessary information to the PDF document.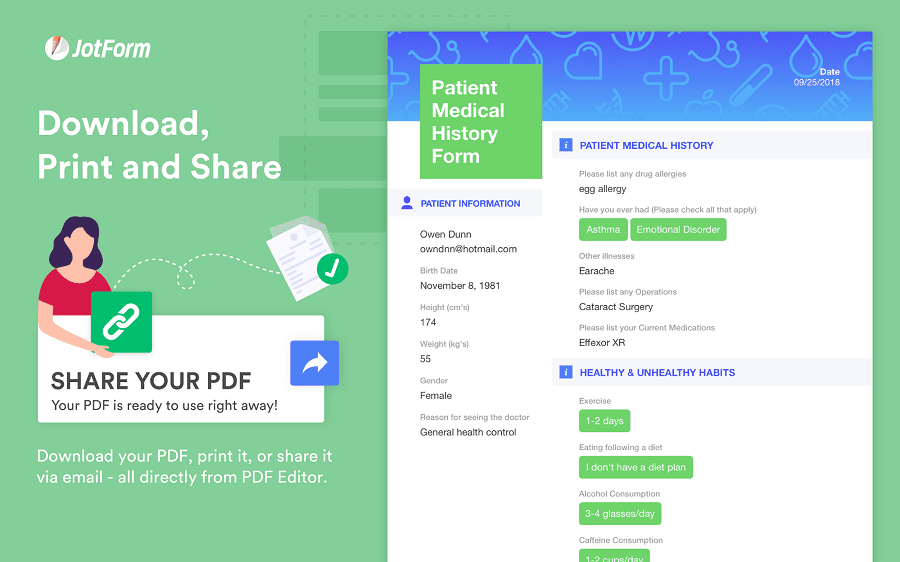 Let's also admit that however helpful PDFs are, they are very stubborn when it comes to formatting. The next step is to make sure that the PDF document is properly formatted, you finally make the necessary edits and your PDF file is ready for sharing.
JotForm PDF Editor automates the process of creating a PDF manually, freeing up a bunch of extra time to focus on other aspects of your business.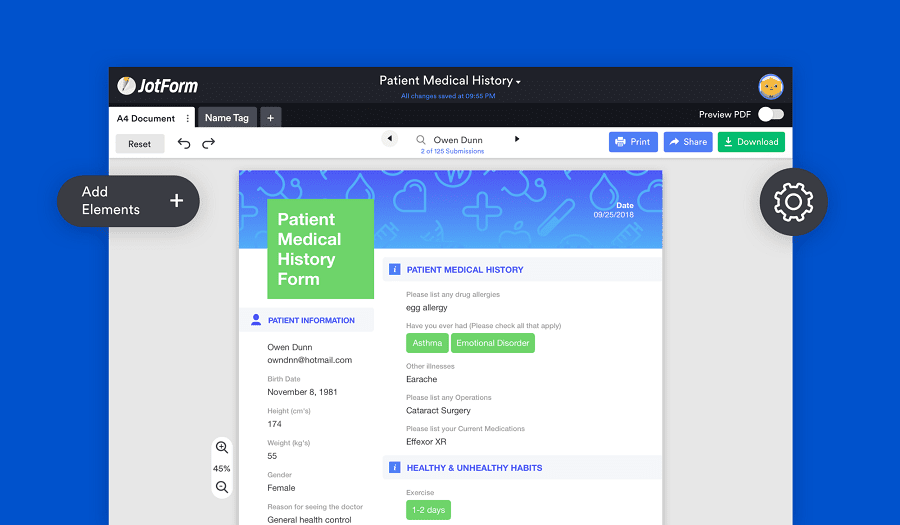 You just let the online forms do the data collection automatically, eliminating the data collection hassle with easy to fill out forms. You can also collect the information required for the PDF document such as images, dates, signatures, text fields and many more!
How to get started with JotForm PDF Editor?
Step 1 – Just visit https://www.jotform.com/products/pdf-editor/ and create a Free JotForm account in a manner of minutes.
Step 2  – Create your online form with JotForm Form Builder and start collecting the necessary data by sharing the online form with your audience easily.
Step 3 – Design your PDF as you please easily with drag and drop elements or select from readily-made PDF Templates. As you start getting responses, your PDF will automatically be created.
Step 4 – Share, store, print, download and edit your PDF documents online!
Conclusion
We strongly recommend the free JotForm PDF Editor after giving it a try.
JotForm PDF Editor is more than just another PDF editing tool. It is a productivity tool entirely by itself. You can create professional-looking PDF documents based on your collected data in seconds. You can prepare proposals, create contracts, generate invoices, organize job applications and many more. The automatic creation process also makes it faster and easier to communicate with your colleagues and clients. Give the free JotForm PDF Editor a try and streamline your workflow!