Good user interface needs more than just a pretty template. It requires several components operating in unison to help visitors access a site and achieve their target in the most effective way. Every feature needs to be optimised with good user experience in mind, from the structure of the website to product specifics. 
If you want to know more about it, keep reading. 
Today in this post, we'll go over 05 fairly simple and unique ways you can implement to improve your eCommerce user experience (UX).
What is User Experience and how it impacts your eCommerce store?
The abbreviation UX stands for user experience. Basically UX includes all facets of the relationship between the end-user and the business, its products and services. It should be noted that this involves interactions with various screen sized devices.
For instance, if you're offering outstanding user experience on desktop but not on other devices like tablets and mobiles, you'll definitely lose customers. 
As the use of mobile devices is increasing day by day, it's necessary to make necessary modifications so that your eCommerce website looks good on different devices.
By offering a good user experience, you can directly increase the order value of your products by not only helping your customers to locate the products faster, but also helping them to explore newly launched products easily. 
This will make their shopping experience enjoyable and pleasant, which will also encourage them to spend more time on your store and they will probably purchase more products. A good UX allows help in increasing the customer retention rate drastically.
Before we jump into the further details, bear in mind that comprehending your target audience expectations and behaviors is the first step to optimizing UX. If you're truly able to understand your customers' behaviour and how they interact with your eCommerce website, only then you will be able to make informed UX decisions.
So without further ado, let's begin!
5 incredible practices to improve your eCommerce site's user experience
#1. Offer product recommendations
Recommending useful products to customers can help you to guide them accurately. This will increase your order value and your customer will be able to discover your new products. It's more like giving suggestions to them which will improve your eCommerce site user experience.
For example, you can display the similar items you customers are currently viewing by adding a section 'Customers who purchased this product also purchased…' on your store.
Check how Forever21 uses this idea to improve their site's user experience:
#2. Easy to navigate and organized site structure
Just imagine, you walk into a clothing store and find all the stockings mixed with t-shirts, just think how would you feel? Irritated? Disappointed ? Similarly, the eCommerce customer can feel the same thing if your store is not properly organized and easy to navigate.
It will take them much longer than usual to find the required item and they won't be able to discover new items easily. 
So it's necessary to keep the structure of your eCommerce store organized and clean. Divide your products into categories and keep them all in one place (main menu). You can also further classify your products, to make it easier for your customers to locate them. 
For instance if you own an eCommerce makeup store, divide your products into three main categories Face, Eyes, and Lips then divide them into subcategories based on type of your products. 
Take a look at how Nordstorm has organized all its product categories in the top menu of its store:
#3. Collect customer feedback
Even if you follow the world's top practices still there will always a room for improvement. 
To find out how your customers feel about your store, products and services, it's essential to take their suggestions and feedback. Collecting feedback from customers will help you understand your weak points and how you can improve accordingly.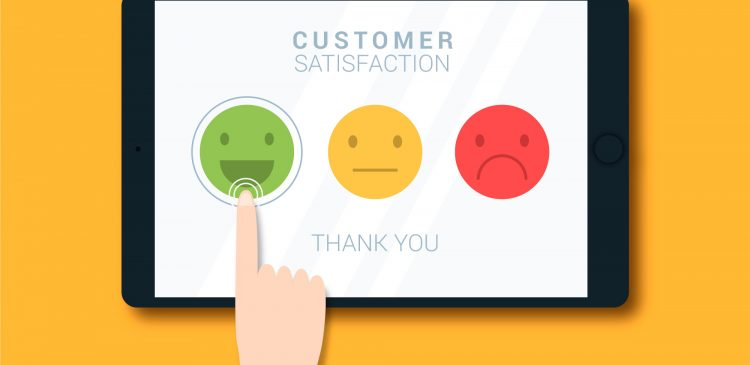 There are some primary components that will help you to collect feedback from your customers successfully. Send automated emails to customers just after they have purchased product(s) from your store. This is a very effective and time-saving method that can help you to speed up the process.
Another great way to collect feedback is to offer them something which cannot reject. You can offer them limited time discount coupons or free gifts. This will encourage them to buy from you frequently. 
Also you can display customer feedback on your site to gain trust of new visitors. 
#4. Provide wishlist option
Adding products directly to shopping carts is what most of the customers hesitate. They want to explore other options while keeping the liked one in their basket. Or sometimes they just are not sure what to buy and they want to save their chosen items for later on.
No matter what the reason is, you need to offer a wishlist option on your eCommerce store to allow your customers to keep the items saved before they purchase them. Offer them both the options to  make their shopping experience more enjoyable. 
Just see how amazingly Amazon offers this option: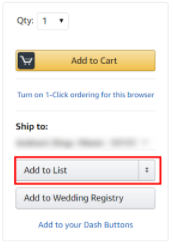 Without this feature, it will be challenging for your customers to find the products they wanted to buy or they were interested in, which will eventually hit your conversion rates. Plus, it will negatively impact your customers and probably you will lose them forever. 
Moreover, this will help you to send polite email reminders to your customers to remind them to complete the purchase. Don't forget to offer a treat in those emails as it encourages and motivates them to complete the purchase asap.
#5. Build trust and credibility with transparency
When customers are shopping online, they are usually quite skeptical especially if they are shopping from a new brand. Therefore, it's highly recommended to keep everything in your store transparent. Provide them with as much information as you can such as company policies, shipping details, product details, etc. 
Transparency will encourage customers to trust your brand and they will feel more confident while shopping from your store. Secondly, if you provide all the necessary information to your customers, it will help them to make better decisions.  Ultimately it will improve the user experience of your eCommerce store. 
Conclusion
To recapitulate, improving user experience of your eCommerce store is essential if you want to turn your website into a money making machine. Since the eCommerce industry has become customer-centric, it's highly important to offer outclass user experience.
We suggest you to use all the five practices we have discussed in this post. As they help you greatly to improve your eCommerce store user experience.