Well, when it comes to email marketing, there is no denying that newsletter is one of the best ways to engage with your potential audience. They are personal, consistent, targeted, and can transform readers into buyers in no time.
However, newsletters only serve as an effective medium, when they are effectively designed and are executed with a proper strategy.
There are newsletter mails that get instantly deleted. While some of them lost their focus between random discounts, promotional blog posts and more.
So, how do you create a newsletter that wins in your customer's mailbox?
According to the Nielsen Norman Group's email newsletter usability report, readers have an emotional attachment with their newsletter. Whether you are drafting a newsletter for the first time or are sending it across decades, here is how you can craft a winning one.
Start With Choosing The Right Email Template
Before you start working on the newsletter, you need to ensure that it looks good and has a persuasive appeal.
If you use email newsletter templates, choose the one that has a single column and have no more width than 600px. With more than half of the audience opening up the e-mails on your mobile, choose the responsive templates that auto fit the size and images, according to the needs.
At last, you can always turn to the professional email service provider like Aweber, Campaign Monitor, MailChimp, and other leading ones.
Follow A Newsletter Strategy
What is the goal of your newsletter? What audience will it target?
Is it for offers, a new product launch or just for driving traffic to a website? Although there are many SEO techniques that confirm the visit the company website, but when it comes to the newsletter, it is important to have a pre-defined strategy and goals.
Your goals should include targeting all the recipients of your e-mail list, an increased number of clicks on CTAs, and open rate.
However, your strategy should include the type of audience, type of content, number of call to actions, and everything that will be read by your customers. It will allow you to make a curated content and will also let you decide, what you should add in your newsletter and what not.
Moreover, you will also have to choose from on/off emails, news blast email, a subscription newsletter, or digest email that works with your business goals.
Have A Compelling Subject Line
Subject Line, especially for e-mails is one of the important aspects of email marketing.
If you have a subject line that says November newsletter, there are chances that your recipient will delete before they even open it. However, 'offer valid for 2 hours' may get you some results.
Make sure you simulate the receiver's eye with unique and catchy subject lines. Add a strong Call to Action so that your readers can turn into customers. You can also use "split testing" functionality with your email service provider and check the subject lines for same e-mail content to see which gets most open and click through.
Decide Your Email Newsletter Format
It is important that you decide in which form your newsletter should be viewed. To craft an effective newsletter format –
Consider which email clients you want to support.
Give a 'view/open in web browser option.'
How do you want your email to appear on mobile or desktop?
There is a number of ways to make a standard newsletter format. Try different format and choose the one that works for you.
Brand Your Email Newsletter
An e-mail newsletter is a part of your brand.
Whether you are choosing an on/off email strategy or news blast one, make sure you always include your 'permanent' logo on your newsletter. It leaves a strong impression in your customer's mind and also helps them recognize you.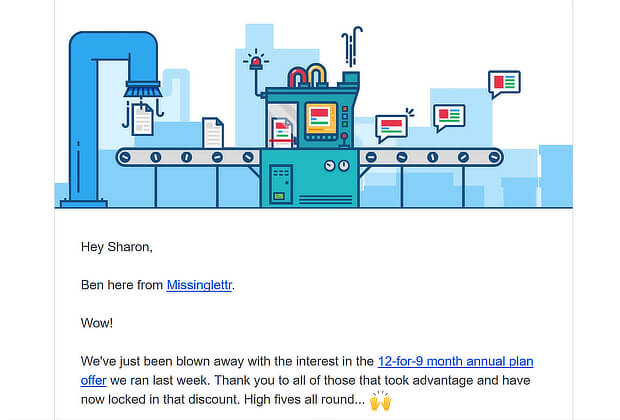 Source
For instance- check how Missinglettr uses their home page graphic as the header of the newsletter.
Along with using the recognizable graphics, make sure you send the newsletter with an address so that the subscribers can respond to your email. There is a chance that a potential lead wants to get in touch with you, but 'no-reply' email has prevented him from doing so.
Keep The Email Focused On One Subject
Whether you are following the creative style or are sticking with a formal and corporate style, make sure you stick to one theme and subject.
Moreover, keep your focus on the message and make sure that you get your message delivered to the customer.
Consider The Usability Of Graphics
Working out the ideal balance of graphics like images and visuals comes as a daunting task on its own, but the newsletter subscribers prefer images.
Re-Think The Background Image: Consider, whether a background image is essential for your newsletter or not. If no, remove it. Instead, add a vivid image with a message in the header.
Ensure Email Looks Good With and Without Images: Whenever you add images in your newsletter, make sure you add alt text to them. So, in case, if the images are disabled, the newsletter will make complete sense.
If you prefer to use images, choose attractive images and place them where you want the customer's attention focused.
Balance Promotions With Information
Who says, you cannot add promotions to your newsletter.
It is completely fine to sell your services and products as long it does not dominate the content of your newsletter.
Your main focus should be adding value to the reader's lives, but you can work through it and balance two or three call to action buttons in your newsletter.
Try Connecting It With A Trending Event
Audience engages the best with the trends.
Depending on your business niche and type of audience, you can write the content that is in sync with the latest trends.
The audience is always in search for the latest news and what better way than sending it directly into their inbox. Moreover, you can add your view of the news and also ask for their opinion through the newsletter.
At Last, Don't Forget To Test Your Email Newsletter
Before you schedule the newsletter for delivery, send it to your colleagues or friends and take note of their initial reactions.
Test them on different screen sizes, view it on various browsers and fix all the elements to make sure that your message is displayed effectively. However, you can also use tools with A/B testing that helps you determine, which version is likely to be clicked by the users.
Summing Up
A successful, winning and converting newsletter is made up of various actionable thoughts. It simply requires a fresh shift in thinking.
Instead of filling up their mailbox with sales, offers, and more at random time slots, add value to it. According to a 2017 Litmus research, 51% of the recipients subscribe from an email that doesn't look good.
They arrive in the inbox every day and create a positive bond that even a website cannot.
So, try re-framing your newsletter, enhancing the visuals, add GIFs to it, write compelling content, and give them offers that will benefit your potential customers. Stay consistent with your e-mail marketing efforts and your email subscription list will automatically be responsive and engaged.