In the world of mobile and online games, Pokemon is one of the most popular names, and people of all age groups are crazy for its gaming experience. Actually, Pokémon Go is a free-to-play, location-based reality game which was developed by Niantic for Android, iOS and Apple devices. This augmented game is the result of technical efforts done in collaboration between the Pokemon Company and Niantic. Pokemon Go was, at the start, released in very few selected countries in the month of July 2016, but nowadays it is world popular game. For playing it, game players need to use GPS capability of a mobile device. In the game, players are to find, battle, capture and train virtual creatures. These virtual creatures are called Pokémon, and these appear on the screen of a device as if these creatures were in the same real-world locality as the player.
If you run your own business or promote a local business of someone else, it is great to avail the latest gaming craze for Pokemon to increase your sale. No doubt, Pokemon Go has a large number of daily users on Twitter and other social networks. It has also attracted the average number of users on the Facebook app. These are the reasons why you must consider this gaming craze, the best opportunity to monetize your business.
Hope, you are interested in taking advantage of the latest gaming craze for promoting your business. But how is it possible? In this article, you will know how a businessman can boost his or her business by increasing social media engagement with popular game Pokémon Go.
#1 Request a PokéStop or Gym for your business
The first thing you need to do is to fill and submit a Request Form to gain a Gym or PokéStop for your business. On the Pokémon Go player's map, a PokéStop will show up as a place to collect for special Pokémon, eggs, and other treats. These PokeStops are noted by a blue cube on the player's map. By tapping your PokeStops, users notice the details what you provide for your business. You are more likely to find a PokéStop for your small business. On the other hand, Gyms are places where Pokemon Go players go to battle with other players with their Pokémon. Gyms are usually best suited for malls, parks and larger areas where Pokemon Go players can congregate.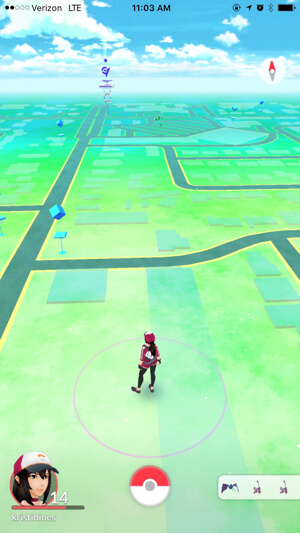 Image Source: Socialmediaexaminer
#2 Attract people to play Pokemon Go at your business
After getting PokeStop or Gym at your business place, you need to invite players via social media networks. You should boost social media engagement via Pokémon Go; it will bring players to your business. It is better to use your different social channels to invite people to play Pokemon Go at your business location. It would be greater if you turn it into a contest alluring local players towards your place. By following the rules on different social networks, like Facebook and twitter, you can invite people. Your invitation and an exciting contest will increase more social engagement with a large number of audience and customers.
#3 Provide free Wi-Fi and charging stations
Good facilities at your business place are necessary to attract the people, and this is true in the case of Pokemon Go. If you really want to attract more Pokémon Go players to play the game at your business, you need to offer required facilities so that players can feel comfort and convenience. Among them, there are two very important facilities every player needs. These are Wi-Fi and charging stations. If you offer free Wi-Fi and charging stations, people would prefer your place for Pokemon Go to other ones. You can use window signage and your social channels to let interested players know that you offer free Wi-Fi and charging stations so they will be interested in them to play.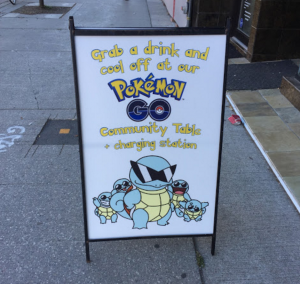 Image Source: Sweetiq
#4 Ask Pokemon players to tag their photos
You can ask players to share their Pokemon pictures captured at your business. Sharing their photos and tagging your business with them will give your business great social exposure. On the different social networks, they can share your business as the location where they are playing. That would be a right way of advertisement.
#5 Encourage players to check in while playing
To boost your local engagement and increase the credibility of your Facebook, you can encourage Pokemon Go players to check in while playing. The check-ins will optimistically bring more players to your business. And apart from that, they will bring new reviews on your Facebook page.
#6 Request players to take pictures of Pokémon with your products
Encourage your Pokemon players by offering a special incentive for sharing the pictures of their Pokemon with your products. It will be a great option to market your products to a large number of local customers. It would be great to ask your players to aim Pokemon on the product which the players want to buy. Tell them that each and every photo they share with your product by tagging your business name will bring them some valuable discounts. It would be helpful if you show your customers how to do this all on your twitter, Facebook page, Instagram, and other social networking platforms. It will let them do it all easily.
Image Source: Squarespace
#7 Ask players to share with Snapchat memories
You can reap the benefits if you become successful in encouraging your players to share Snapchat memories. When it comes to the game of Pokemon Go, sharing Snapchat memories brings its valuable impact. When your players catch Pokemon pictures inside your business place and share it, your business will be promoted.
#8 Film Pokémon players
Making films of Pokemon players can be one of the right options to promote your business. With the permission of the players, you or your employees can film them when they are on the hunt for Pokemon. You could also film players when they are successful to catch Pokemon. You can show off on their Pokedex. You can also have a drone fly to congregate a large group of players at your Gym. You can upload these films on different social networks like Instagram and Facebook, etc.
Featured Image: Pixabay.com