Instagram is dominating the digital marketing world!
With more than 700 million monthly active users and over 8 million business accounts, Instagram has become an inspired content hub with rising influence.
The increasing recognition of the platform shows a major shift from tiresome content to innovative content. Consumers are now seeking for more content in less time. So, the demands and pressure are really high!
And coming up with creative concepts and engaging content can be a big struggle.
Moreover, your content must be relevant, engaging and needs to look good. Your visuals should be up-to-date, accurate and creative enough to attract the audience.
So now the problem is; what are the best ways to augment Instagram content strategy to boost engagement?
As a Content Marketing beginner, it's a challenging task to create highly-engaging content on Instagram. You need to understand the basic and all the details to start.
There are several ways to create engaging content, but initially, you need to understand why high-quality Instagram content is important. So, let's get started!
Importance Of High-Quality Instagram Content
Creating high-quality and engaging content is really important to grow the trust and popularity of your business on Instagram.
Why?
Presently, there is a lot of competition on Instagram and audiences are now sensitive about the content they seeing in their feed.
Moreover, the updated Instagram algorithm is making it even harder for organizations to shine out. And as a brand, you need to understand that the new algorithm isn't holding you from rising. It's just modifying the way you can grow.
The platform is completely user-centric and focusing more on quality and consistency. This means you need a proper strategy for creating high-quality content and stand out from the crowd.
The greater the quality higher the chances to engage customers and build a huge fan base.
Now, when you are clear about the importance of high-quality Instagram content, the next step is to create content.
And here we've gathered 5 key ways to help you get started:
This post will include key points to the first step in a successful Instagram strategy is to know your audience members so you can create relevant content for them.
#1 Use Ready-To-Use Templates To Create Your Own Instagram Content
You will find a lot of tools to create attractive Instagram posts easily without using complex software like Photoshop or illustrator.
Online designs tools like Canva, Pictochart and Spark Post are some of the prominent and useful tools fall in this category. These tools allow you to create beautiful designs by using their drag and drop feature and layouts.
Moreover, these tools provide a collection of ready-to-use templates and you can customize it as per your requirements.
Whatever you want to share with your followers, you can easily do it with ready-to-use templates!
#2 Know Your Audience
You can't create credible, engaging and high-quality Instagram content without actually understanding your audience perspective accurately.
You need to know how they are using Instagram, what type of accounts they follow, and what type of content they usually like and share.
To begin, start interviewing your target audience regarding the products or services you are providing. Know their preferences, and the factors important to them while choosing an offering.
Equipped with this information, and it will become easy for you to create outstanding content for your audience.
#3 Use Multiple Content Formats
It's important to use multiple content formats to attract a variety of potential customers on Instagram.
Sometimes a solo image is not enough to show the complete story effectively. Try Gifs or you can use multiple image share option and create a complete photo album.
Here is an example: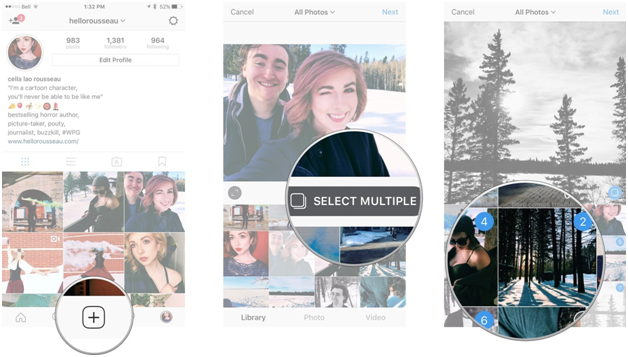 Moreover, you can use 60-second videos to show your products or simply give a small tutorial or demonstration of your product or services.
Remember not to be so pushy and over promotional for your products.
4# Use Instagram Stories
Businesses are using Instagram Stories strongly to promote their content and engage audiences.
Presently, there are 300 million daily active users of Instagram stories. Consequently, it becomes the hottest trend in social media marketing.
Instagram Stories have become the most effective way to connect with your followers even if they don't notice your usual posts in their feeds.
It's one of the best ways to draw engagement, build brand awareness, and augment your sales. Here are a few points that you must consider while sharing your Instagram Stories content:
Use Stickers, Gifs, and Polls in your Instagram Stories
Use Hashtags and Location Stickers
Try Swipe-Up feature
Share Quotes and testimonials
Promote Offers and freebies
A good Instagram Stories usually cover behind the scenes content that permits your followers to see the aspects of your brand that they probably not see otherwise.
5# Run UGC Campaign
User-Generated Content (UGC) refers to the content created organically by your customers related to your brand, products or services.
User-generated content acts as an influential weapon that can encourage your potential customers to take your brand, product or services more seriously.
Moreover, User Generated Content gives several ideas to marketers to create creative and relevant content for their Instagram handle.
You can use several Instagram monitoring tools to help you find your brand mentions. You need to find these mentions to understand if they related to UGC and positive enough to share on your own account.
Most of the followers understand high-quality examples of UGC since they believe it's genuine.
However, you should keep in mind that users will likely to create content for the brands which are huge, well-established and provide extra incentive to write for them.
So, to get a good amount of UGC you should run a campaign to encourage users to write for you with a brand hashtag and in return, you can offer them a free product or a discount.
6# Reply to the Comments
The popular social media platform considers user engagement as a primary metric for estimating content value.
In fact, producing a user-engaging content is actually an excellent way to get a place on the Instagram Explore page.
To encourage user engagement, you should keep track of your comments and should reply to your follower comments and queries on a regular basis.