You may already own an e-commerce store using WooCommerce or have yet to start one. In either case, what you need is a list of useful plugins to build your WooCommerce site. WooCommerce by default offers only basic features to set up an e-commerce site. But it supports plugins and extensions to add extended functionality to your site. 
In this article, we will list the most useful and must-have plugins for your WooCommerce store. Some of these plugins may require a paid subscription, but it'll be worth considering the features they offer.

This payment gateway plugin lets you accept all the payment methods supported by Stripe. It supports all major payment options such as Apple Pay, Google Pay, Alipay, SEPA payments, and more. This ensures a convenient and efficient payment system in your WooCommerce store.

Managing inventory is one of the most difficult aspects of running an e-commerce store. This Inventory management plugin is a day saver for every shop owner. It comes with a dashboard with all the information you need.

You can accept and receive payments from PayPal using this plugin. It also supports a faster checkout process. So customers can easily place an order with fewer clicks. The plugin helps you enable smart checkout options in your WooCommerce store. It accepts Debit/Credit card payments without leaving the site. 

Whether you own a WooCommerce store or simply a WordPress site, this is a must-have plugin for all WordPress users. This plugin manages all SEO functionalities for your website. A major benefit of Yoast is that it is very user-friendly and even people with little knowledge in SEO can manage this easily.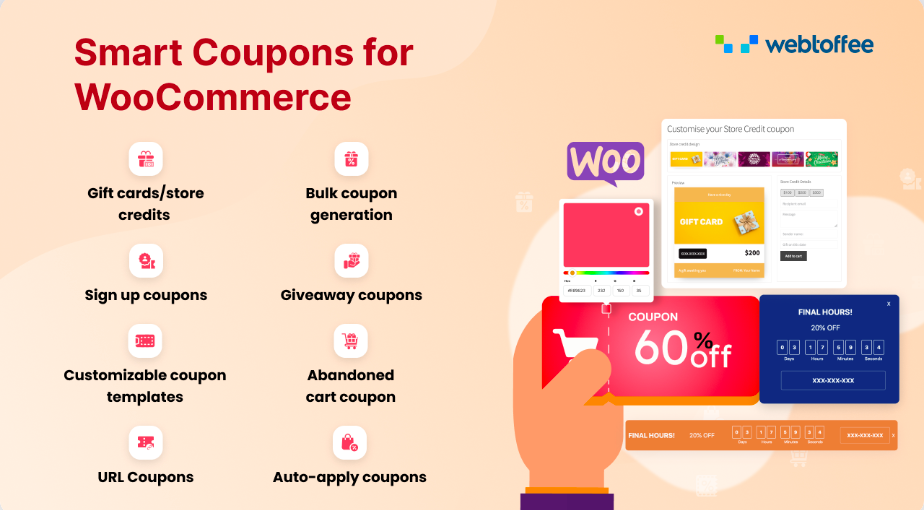 The default WooCommerce coupon system has limited features. If you want to use extended features, then this is the plugin for you. This is an all-rounder coupon plugin. It can take care of all your coupon-related requirements. You can set usage limits, coupon restrictions, discount policies, etc.

This is a simple popup builder plugin that lets you create email signup forms including popups, floating bars, scroll boxes, and more. This plugin comes very useful for email marketing and lead generation.

A wishlist is the most powerful tool in an e-commerce store. Whether you sell physical products like watches, sunglasses, or virtual products like software and games, a wishlist will come in handy no matter what you are selling. This plugin offers the most advanced wishlist option for WooCommerce. It allows your customers to save a product for later, and share the wishlist with friends and family. There's also an option to share it on social media.

This is a packaged plugin that lets you generate all the documents related to order purchases. This includes PDF Invoices, packing slips, delivery notes, shipping labels, and dispatch labels. You can also preview or print these documents individually or in bulk. The plugin also provides a lot of options for customizing invoices and shipping labels.

It's necessary to add a proper feedback mechanism in your WooCommerce store to enhance a user-friendly experience. Customers may have queries about various products. This plugin adds a contact form in your WooCommerce store, in which your customer can ask their queries and add their feedback, so you can reply to them later.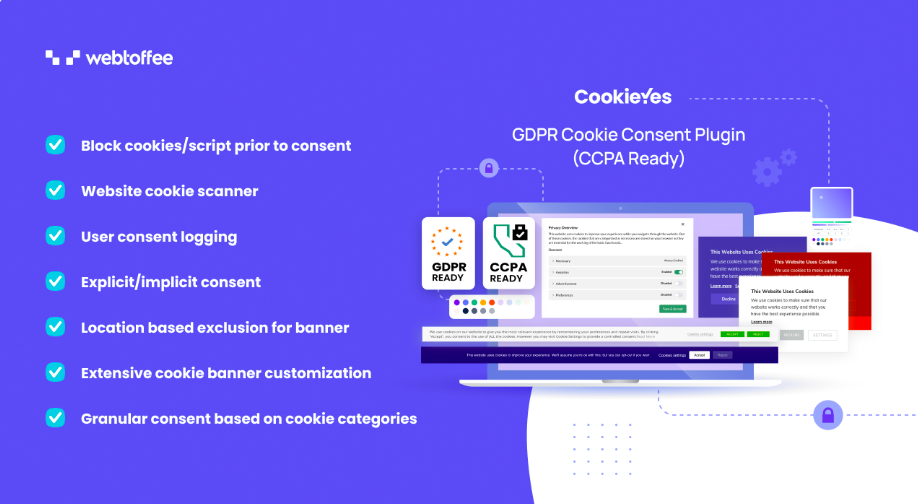 If you are doing international business, especially in the EU, you might be aware of GDPR. It's important to adhere to the laws and regulations of the country. This plugin will help your store comply with GDPR and allows you to use the data of your customers with informed consent.

Your customers might have a sense of trust when they can track their orders in real-time. It is a convenient way to ensure transparency in your business. This plugin lets you enable shipment tracking options in your store. It supports 300+ shipping providers and offers a predefined tracking link that allows customers to track their orders.

Sometimes you might want some customization to your checkout fields. Checkout Field Editor simply brings you the power to add, edit, and remove fields shown on your WooCommerce checkout page.

If you are selling across different countries, then you can't scroll down without downloading this plugin. The plugin helps your customers to switch product prices in real-time and pay in the selected currency. 

This is one of the best email marketing tools available for WordPress. The plugin helps you create sign-up forms in your WooCommerce store to quickly capture information from visitors. You can use the information collected for targeted marketing and sending email newsletters.
This plugin helps you create your affiliate program for your eCommerce business. In this way, you can encourage your customers and affiliates to promote your store and products. The plugin offers detailed reports so you can track link clicks, sales, and payments.

If you want to run contests and giveaways on your website, then RafflePress is the right plugin for you. It lets you create giveaway campaigns and contests to help you increase website traffic and social media followers. The plugin is mobile-friendly and responsive to any screen size.

This simple plugin lets you add a quick view option on your product pages. It helps your customers to see the product image in detail. Customers like it when they can see the products clearly, this will increase the chance of liking your product and results in actual buying.

Do you want to offer a live chat feature in your WooCommerce store? Then you might need to download this plugin right now. This plugin allows you to connect with your customers and answer their queries in real-time using the live chat feature.

Social proofing is a great marketing strategy to gain the trust of new customers. This plugin helps you create Social proof notifications for your website. This way you can create a FOMO ( fear of missing out) among your customers. It also helps in increasing the conversion rate in your store. 

This plugin helps you add social media feeds to your website. In this way, you can increase social engagement and website traffic in your site. This plugin is needful if you are doing an eCommerce business through social media. You can add various social media platforms to your website.
Wrapping Up
In this article, we included plugins from various categories, from payment to compliance we covered almost every section of WooCommerce. You can use these plugins on your need. These plugins will help you upscale your business. 
Did we miss anything? Leave us a comment.