Belong broadband is owned by Telstra Corporation Ltd. It's one of the top choices of internet users in the country due to its extremely cheap rates. It provides reliable internet connection at a good speed. Unlike many other internet providers, you don't need to sign a contract for a long-term and can cancel the service whenever you want without any additional charges. However, you can get Belong internet service if only you have Telstra fixed phone line.
Unlike the internet bundles offered by Telstra, Belong broadband doesn't offer the stream of on-demand TV channels, Foxtel bundles or international call packages. Belong is operated as a separate business and aims to facilitate users who are more interested in basic packages. You can get a broadband connection or activate a mobile network plan that suits your requirements.
Popular Internet Service Providers in Australia
37% of Australians are connected with Telstra.
Optus/OptusNet hold on the second position by covering 18% market.
11% Australians are using TPG and 10% are using iiNet.
According to the survey of broadband internet access, Australians are still using ADSL2+ and cable connections.
| | |
| --- | --- |
| Broadband connections | Users in percentages |
| ADSL | 14% |
| ADSL2 or 2+ | 32% |
| NBN (national broadband network) | 28% |
| Cable | 12% |
| Mobile broadband | 8% |
| Fixed wireless | 3% |
| Satellite | 1% |
Why You Should Get Belong Broadband Connection
Belong broadband known for its quality service at low rates and a popular broadband connection plan across the country.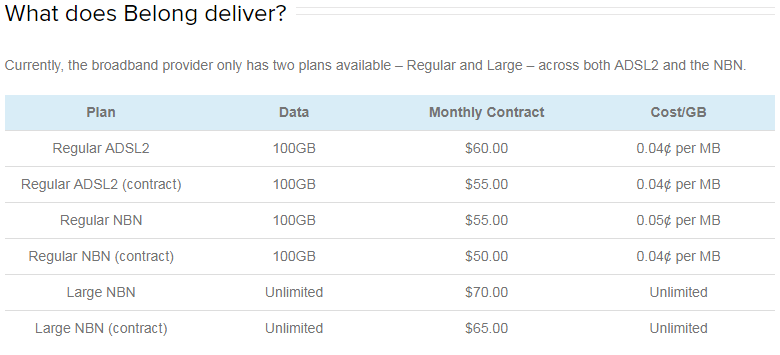 Let's take a look at Belong broadband internet review which explains the major reasons why you should give it a try:
Unlimited Data
With unlimited Belong broadband plans, you can enjoy non-stop internet. Binge watch movies, TV shows, play online games or surf internet without worrying about data capacity. You can consume unlimited data for just $60 a month. However, you need to sign a contract for a year. If you want to remove internet connection during this period, you'll have to pay cancellation charges.
No Hidden Charges
When it comes to broadband packages, it's best to go for a reliable service that doesn't charge you with hidden fees. Belong is one such internet service provider that keeps it simple. You can find out terms and conditions of their contract. There is no need to worry about paying any additional charges to top up data.
No Peak Periods
Internet traffic significantly increases during peak periods, when so many internet users try to log in. Some internet services either restrict data usage during this period or apply peak charges in order to reduce load from servers. However, with Belong, you don't need to think of any peak limits. You can enjoy unlimited internet any time of the day at standard rates.
Various Bundle Plans
Belong offers various internet bundle plans to accommodate the needs of users. You can opt for a 100 GB data plan or get unlimited internet. However, the rates vary with the speed of internet bundle. Furthermore, you can either sign a contract for a year or choose to make monthly payments. Therefore, go through the available package options to make the right choice.
Easy Service Management
You can easily manage the service online by logging in to your account. You can explore mobile data or broadband plans and conveniently choose a plan that works for you.
Belong offers various internet bundle plans for users. It's a subsidiary of Telstra, but is operated as a separate business entity. It's a quality broadband provider that offers reliable internet connection at the good speed.