Custom shelf talkers are very common, especially in shopping malls and supermarkets. After seeing many of it, we have come to love the concept of this low-cost and profit maximising point-of-purchase marketing technique. Custom shelf talkers / custom shelf wobblers will be able to attract customers to your products, giving your brand a competitive edge over its competitors on the same shelf.
What are Custom Shelf Talkers? 
Custom Shelf Talkers / Custom Shelf Wobblers are great marketing tools that makes use of smart details to boost brand recognition and brand visibility. They usually dangle off a shelf and promote your current promotion, such as "1 for 1" or "Buy 1 Get 1 Free". They are usually designed to grab the attention of potential customers or passerby and attempt to attract them to your products. These are great point of sale marketing. Custom shelf talkers will be able to increase your brand awareness and help boost sales, giving your brand a competitive edge over its competitors on the same shelf.
What are the purposes of Custom Shelf Talkers?
Showcase new products
Showcase current promotions
Persuade customers to purchase from you instead of competitors
Raises brand awareness
Engages customers
Provide information about your brand and products
Promote additional services
Advertise seasonal products
Here are a few reasons why we highly recommend custom shelf talkers for your next promotional campaign!
Why are Custom Shelf Talkers perfect for your next Marketing Campaign?
Stimulate Sales: Customers will be more drawn to your products when you have custom shelf talkers at the point of sale to show your current promotions. As seen in the picture below, having signs such as "Big Savers Pack" will attract consumers due to its striking red colour, as well as the opportunity to save money. Sale discounts as such will entice consumers to purchase from you due to potential savings. You will be able to attract first-time purchases, repurchases, as well as drive impulse purchases. Pushing sales is very important, especially for food inventory that has an expiry date – and well-managed custom shelf talkers will be able to do the job for you!
Practicality: Custom Shelf Talkers are easy to manufacture and can be manufactured at a low-cost. Not only so, they can be easily removed or reused for your next marketing campaign. Not only so, but the same promotional shelf wobblers can be used for multiple items as well. However, with affordability and convenience, it does not mean that they are not useful. In fact, they are one of the most effective and efficient marketing tools there is. Similar to shelf banners, they help to increase your brand's customer exposure and attract potential buyers.
Interactive and Engaging: There will be no restrictions to how you should design or customise your custom shelf wobblers. We highly recommend making use of your custom shelf wobblers to increase interaction and engagement between your brand and your customers. This is because higher interactions will lead to better customer satisfaction. One of the best ways to do so is to implement and include quick response barcodes or QR codes. QR codes will allow the process of purchasing and participating in promotional contests convenient. Consumers can scan your QR code to load a promotional video on their device to have a better insight of your products. The QR code can also link to a survey to receive customer feedback, which is always essential for brand development. Not only so, these QR codes can lead customers to your social media sites – such as Instagram, Twitter, Pinterest, LinkedIn or even your website. Our favourite is to lead our customers to a survey or feedback form. This is because these surveys will be able to provide you with feedback on your customer service. This will allow you to constantly improve on your products and services offered. Customers will also think that they are being listened to, thus more inclined to purchase from you.
How to create a successful Custom Promotional Shelf Talker? 
Simple Design: Be sure to always include a simple and easy to read Custom Shelf Talkers during your promotions! This is because they will not be confused and overwhelmed by the amount of information displayed on a small display area
Smart Design: Smart design is paramount to any promotional items. Having to choose a simple design, it is important to only include the important and relevant information. For example, showing "Buy 1 Get 1 Free" is more important than displaying your company's website or social media platforms. Therefore, we suggest to only include "Buy 1 Get 1 Free" on your Custom Shelf Talkers to convey the most important and relevant message. It is important to plan this out well because all great marketing ideas will be wasted if the design is not successful in attracting your target audience.
Vibrancy: The first goal should be to attract customer's attention. What better way to do so other than making your Custom Shelf Talker colourful? Bright and vibrant colours will definitely catch people's attention faster than a dull and boring promotional shelf talker. Be sure to use attention catching colours that will get potential customers to be drawn to your products!
Include a Catchy Message: You definitely do not need to showcase your company's vision or mission to attract customers to your products. In fact, the most crucial part is to work on clear and simple phrases, quotes that are straight to the point. One example from Pedigree that we love is their catchphrase, "you brush, they chomp". This phrase intrigues their target audience, therefore, this is a successful move for the brand.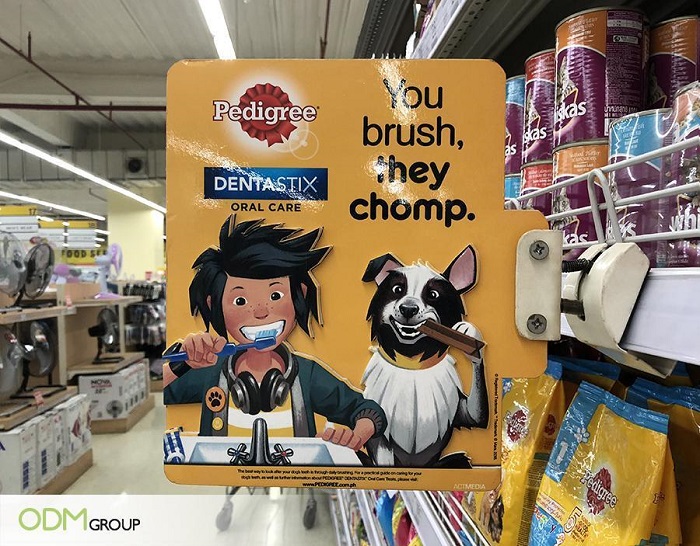 All in all, Custom Shelf Talkers or Custom Shelf Wobblers are highly recommended to always ensure loyal customers and also continue increasing your consumer base. They are cost-effective and easy to install. More importantly, they are useful in raising awareness about your current promotions or best-selling products.
For more information, please click here to find out more about Custom Promotional Shelf Talkers, and how they can be the key in vastly improving your business.