Happy 2017!!! Welcome to a brand new year. Everybody has welcomed new year with some new year resolutions.
Are you thinking what you should focus your business marketing efforts on for 2017?
If you're in the confusion that how to make your business or startup more successful and building relationship with your subscribers.
Email marketing can be your friend.
Email marketing has become a valuable tool to communicate and build relationships with your target audience. It's one of the most popular channels for driving more conversions for you. A well-organized email campaign can convert your subscribers to customers.
Successful business became successful because they understood how important email marketing is in building relationships with their customers
You can't afford to miss this huge opportunity to grow your business this year.
If you are still wondering, go ahead and check out these words from experts.
"Email Marketing is an evergreen method for marketing, generating leads & sales. Just one email blast can bring 100's of customers "- Technoven
"Email is the most influential & powerful marketing channels out there." – Neil Patel, Co-founder of Crazy Egg, Hello Bar and KISSmetrics
"Email marketing is a powerful tool. If you're not ready to do it right, you probably should hold off. A misbegotten email blast can infuriate your customers and prospects in seconds." – Jay Baer, Author, Founder of Convince & Convert
If you're doing it right and regularly, It will become the biggest platform to drive new customers, improve ROI, and maintain customer relationships.
Email marketing is all about "delivering the right message to the right people at the right time."
Are you still in dilemma?
Here are 40 facts which will guide you that why you should spend time on email marketing and why it can be a heart of your business. Enjoy!
#1. Email marketing delivers the highest ROI (For every $1 spent, email marketing generates about $44 in ROI) of any digital marketing channel. (Sarv)
#2. Email is 40 times more effective at acquiring new customers than Facebook or Twitter. (McKinsey & Company)
#3. A message is 5x more likely to be seen in email than via Facebook. (Radicati)
#4. 89% of marketers say that email is their primary channel for lead generation. (Mailigen)
#5. 54% of marketers rate email as the most effective type of digital marketing and the least difficult to execute. (Mailigen)

#6. Email marketing technology is used by 82% of companies. (Ascend2)
#7. 68% of consumers find an email to be their #1 preferred channel for receiving commercial messages. (Email Is Not Dead)
#8. Transactional emails have 8x more opens and clicks than any other type of email and can generate 6x more revenue. (Experian)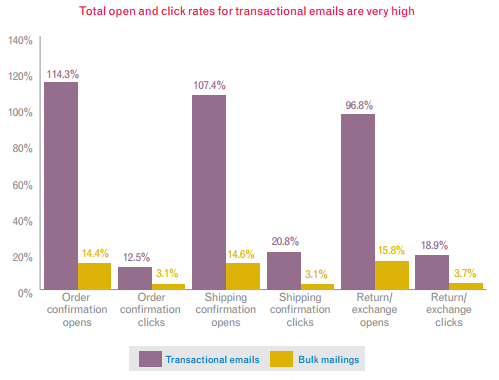 #9. Emails with personalized subject lines are 26% more likely to be opened. (Campaign Monitor)
#10. Personalized emails deliver 6x higher transaction rates. (Campaign Monitor)
#11. 74% of marketers say targeted personalization increases customer engagement. (Econsultancy)
#12. Personalization helps boost click-through rates by 14% and conversions by 10%. (Campaign Monitor)
#13. Relevant emails drive 18 times more revenue than broadcast emails. (Mailigen)
#14. 54% of marketers say increasing engagement rate is their top email marketing priority. (Hubspot)
#15. Email is the top source of analytics data for marketers, with 41% using their email marketing performance data. (Capterra)
#16. By the year 2017, 1.779 Million people will access email via their mobile device. (Email Is Not Dead)
#17. Mobile email opens have grown by 180% in the last three years. (IMPACT)
#18. 58% of adults check their email first thing in the morning. (Customer Intelligence)
#19. Over 36% of mobile subscribers use iPhones or iPads to read email and 34% of subscribers only use mobile devices to read emails. (IMPACT)
#20. 80% of content marketers use email marketing. (Email Is Not Dead)
#21. Video in Email Campaigns can increase Click-Through Rates by 65% and ROI by 20%. (Sarv)
#22. Email Marketing is the biggest marketing channel on Black Friday, driving 25.1% of orders. (Email Is Not Dead)
#23. 64% of people say they open an email because of the subject line. (LinkedIn)
#24. Email with social sharing buttons increase click-through rates by 158%. (PageLines)
#25. Welcome emails have 320% more revenue per email than other promotional emails. (Sarv)
#26. 74.4% of consumers expect a welcome email when they subscribe. (OMETRIA)
#27. Welcome emails generate 5 times as many clicks than typical promotional emails. (Sarv)
#28. "Thank You" emails enjoy twice as high engagement levels compared to average. (Hubspot)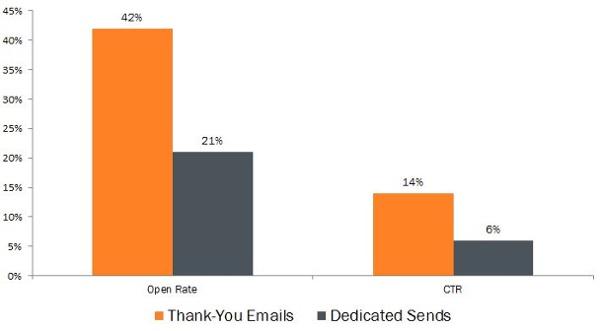 #29. Abandoned cart emails have 46.6% open rate, 28.7% click rate, and 5% conversion rate. (Econsultancy)
#30. Including a call to action button instead of a text link can increase conversion rates by as much as 28%. (Campaign Monitor)
#31. 27% of birthday emails arrive on the subscriber's birthday. (ExactTarget)
#32. The top five subject lines in a recent study all included "Re:" (ContactMonkey)
#33. Marketers who integrate video in email generate 40% higher monthly revenues than those who don't use. (GetResponse)
#34. Email marketing ROI is the second most easily measured (after paid search), with 39% of marketers rating their ability to measure the ROI of the email marketing retention efforts as "good," according to Econsultancy and Oracle Marketing Cloud. (Econsultancy)
#35. 43% of email recipients click the Spam button based on the email "from" name or email address. (Convince & Convert)
#36. You have just 3-4 seconds to grab your reader's attention and interest them enough to open and read your email. (Litmus)
#37. 33% of email opens occurred on an iPhone, while Gmail, second to the iPhone for opens, only accounted for 15% of those opens. (Litmus)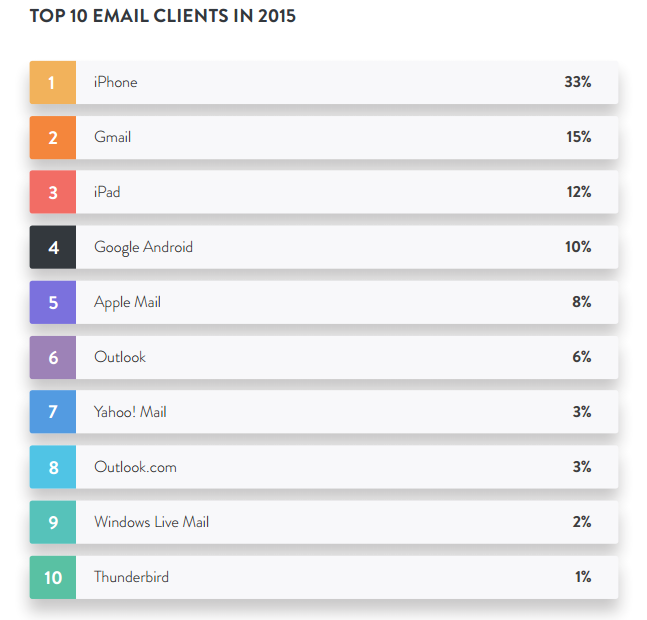 #38. Nearly 75% of respondents rely on email as their primary method of gathering sales qualified lead. (Freely)
#39. Study finds e-retailers are making it more difficult to unsubscribe from emails. (Marketing Land)
#40. 95% of people who sign up for a newsletter from a recognized brand consider the email useful. (Salesforce Blog)
I hope you enjoyed these facts. So consider email in your marketing strategy.
Exciting news: YayCommerce has just rolled out new customizable email template features! It means that all your communication with your customers will finally match the rest of your branding. With this WooCommerce Email Customizer, you can customize the content and formatting of the templates.
Do you have any facts to add to this list? Please share in the comment section. I'd love to hear from you. 🙂
Good Luck!